Sep

11

, 2023
Trans-Siberian Orchestra December 30, 2023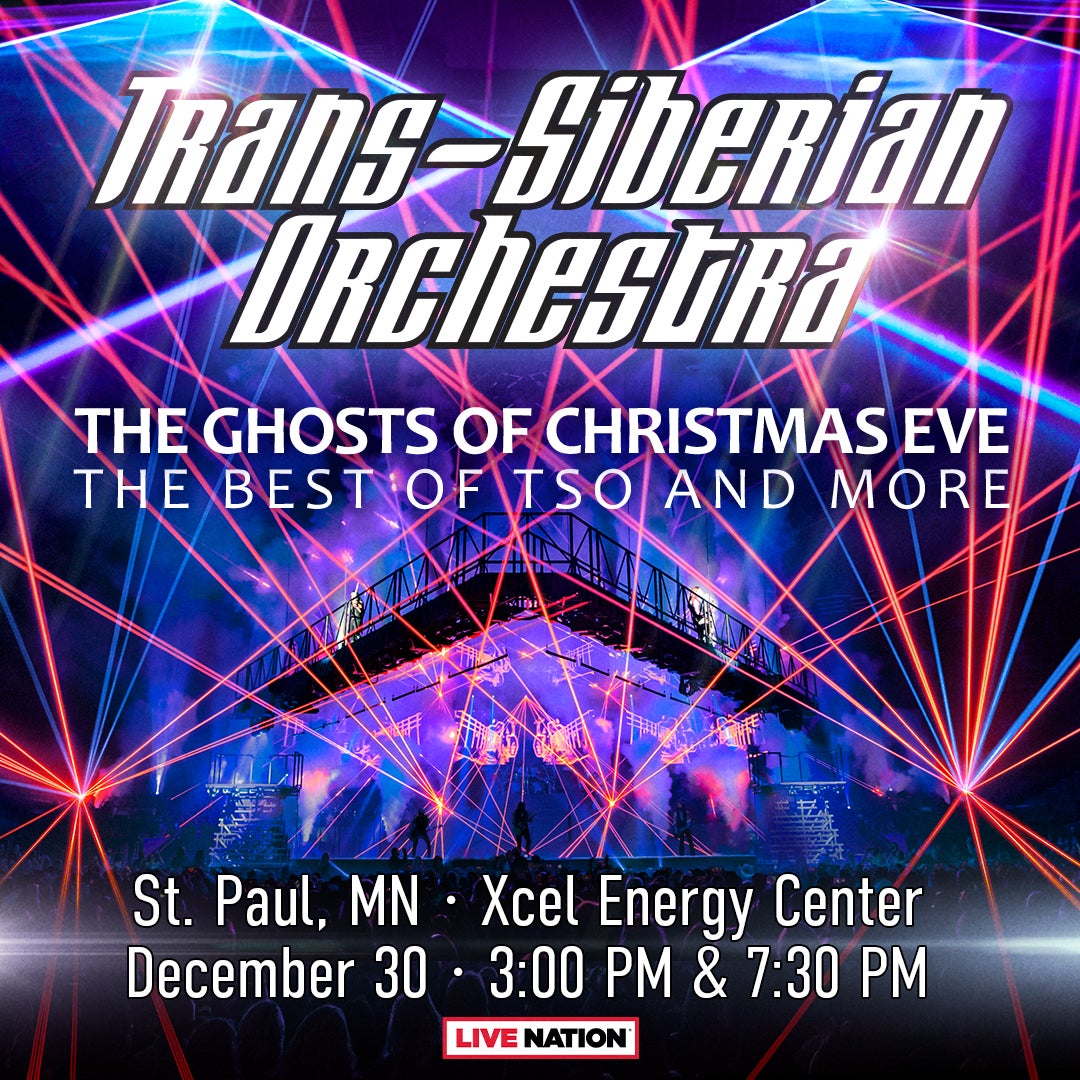 Saint Paul, MN - Trans-Siberian Orchestra (TSO), the multi-platinum, progressive rock group, announced its highly-anticipated Winter Tour will be back for 2023. For 2023, TSO brings a completely updated presentation of the unforgettable, multi-generational holiday tradition, "The Ghosts of Christmas Eve." The tour kick-starts on November 15 with captivating performances in Green Bay, WI, and Council Bluffs, IA. Over the course of the tour, TSO will visit 62 cities, delivering an impressive 104 performances before concluding on December 30 (view the complete itinerary on trans-siberian.com). Beginning with the public on sale, a limited number of specially priced $39* tickets will be available for one week or while supplies last.
A product of the imagination of TSO's late founder Paul O'Neill, and based on TSO's multi-platinum CD and TV special, "The Ghosts of Christmas Eve" follows the journey of a runaway who breaks into an abandoned vaudeville theater on December 24th. While seeking shelter from the cold, the teen is discovered by the theater's caretaker who uses the ghosts and spirits from the building's past to turn her life around. Following the performance of the rock opera, 2023's tour also boasts a rocking, blazing, and laser-lit second set containing more of TSO's greatest hits, fan-favorites, and surprises. In addition to experiencing the story at TSO's live concerts this year, fans at home can watch a digitally restored "The Ghosts of Christmas Eve" on their local PBS station.
"For 27 years you have helped make Paul O'Neill's TSO stories a part of your holiday tradition. And, for 27 years, our tradition has been to make every year's tour better than the last for you. 2023 is no exception as this year's tour will be the best ever. I can't wait to see our 'repeat offenders' out at the shows and look forward to seeing the new faces as well," said TSO's music director and lead guitarist Al Pitrelli.
Year-after-year TSO hits the upper reaches of the domestic and worldwide tour charts. Recently, Pollstar published its compiled touring charts for the past 40 years. TSO ranked No. 11 in Tickets Sold and No. 21 in Top Box Office Grosses. In January, Billboard placed TSO at #1 of its December 2022 Boxscore Report. Additionally, at the close of the aughts, the group was ranked at No. 20 on Pollstar's "Top Tour(s) of the Decade" and No. 25 on Billboard's "Top Touring Artists of the Decade."
On Monday, September 18 and Tuesday, September 19, TSO Music Director Al Pitrelli and vocalist Kayla Reeves will be available for interviews to discuss the upcoming tour and give your viewers a sneak peek at the TSO 2023 show. Plus, all stations who book interviews will receive two tickets to a local TSO show to give away either at the conclusion of the interview or through the station's social media channel(s)!
For up-to-the-minute news and on-sale information, please visit tsotickets.com. For additional information, please visit trans-siberian.com.
*excluding taxes and fees
SUGGESTED INTERVIEW QUESTIONS
When will THE GHOSTS OF CHRISTMAS EVE Tour begin? When will you be performing in this area?
What's different about a Trans-Siberian Orchestra show compared to your average rock show?
Can you give our viewers a sneak peek at what they'll be seeing at this year's show?
Tell us about the money raised for charity.
What is it about TSO that resonates with so many people?
How can we get tickets and find out more information?
More About TSO: Since its touring debut, TSO has played more than 2,000 Winter Tour shows to more than 18 million fans. In just the past 10 years (encompassing nine tours), TSO has performed for more than 8 million fans. Keeping with O'Neill's vision, TSO remains one of rock's most charitable bands. Once again, TSO will give at least $1 from every ticket sold to charity. To date, more than $18 million has been donated by the group.
To arrange an interview with Al Pitrelli & Kayla Reeves, please contact:
Gabi Bisconti (646) 770-9003 / gbisconti@nc-management.com
Emily Dzioba (646) 770-9015 / edzioba@nc-management.com
Kenny Kaplan (646) 770-9001 / kkaplan@nc-management.com
Adam Lind (646) 770-9000 / alind@nc-management.com