May

11

, 2023
St. Thomas vs. Minnesota Hockey October 13, 2023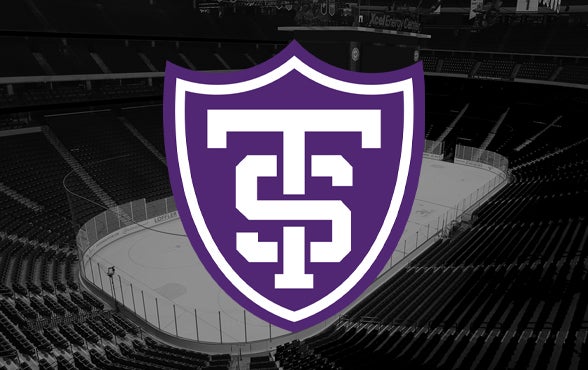 Saint Paul, MN - As part of the Division I growth of St. Thomas Hockey, the school announced a men's and women's hockey doubleheader on Friday, Oct. 13, 2023 between St. Thomas and the University of Minnesota set for downtown Saint Paul to help roll out the 2023-24 season.
The Tommie women's hockey program will take on the perennial national power Gopher women's hockey team at 4 p.m., followed by the Tommie men's team battling the National Runners-Up Golden Gophers at 7:30 p.m.
The Friday, Oct. 13 games at Xcel Energy Center are presented by Wings Financial Credit Union. Tickets will go on sale on Tuesday, Aug. 22 at 10 a.m. St. Thomas and Gophers season ticket holders will have access to a priority presale starting on Monday, Aug. 14. One ticket will give fans access to both games.
All four teams will square off again on Saturday, Oct. 14 in rematch games on the Gophers' home ice venues in Minneapolis.
This will be the first official men's hockey meeting for St. Thomas and Minnesota. The Tommie women's hockey team has already battled the Gophers 12 times over the last two seasons as part of WCHA conference play.
St. Thomas men's coach Rico Blasi and women's coach Joel Johnson have guided their teams to fast improvement in their two-year history in Division I hockey.
The Purple had the most improved men's hockey team nationally in Division I across several metrics. Blasi's team recorded eight more victories over their inaugural season's win total and moved from No. 59 to No. 40 in the College Hockey News power ratings over the two seasons. In women's hockey in the national D-I Pairwise, Johnson's St. Thomas program moved up from a No. 35 ranking out of 41 teams in season one of its D-I era to a No. 23 rating out of 43 teams at the end of the 2022-23 season.
"We are excited to play the Gophers, one of the best programs in all of college hockey," Blasi said. "It's also a great opportunity to play in one of the best hockey venues in the country, and we are appreciative of the hospitality from Xcel Energy Center staff and the Minnesota Wild."
"We are very excited to play in a premier venue like Xcel Energy Center," Johnson said. "The opportunity to have this matchup in downtown Saint Paul, in the 'State of Hockey,' against a storied program like the University of Minnesota is something we know will grow the game and generate a great atmosphere. It will be an exciting experience, not only for our players and fans, but for anyone who loves college hockey."
This is the second time in the D-I era that the St. Thomas men will play in Xcel Energy Center -- the Tommies played host to St. Cloud State back on Oct. 3, 2022. It will be the first Xcel Energy Center appearance for the Tommie women.
Season tickets for 2023-24 Tommie Hockey will go on sale on Monday, June 5. All season ticket holders will receive priority purchase opportunity for the double header at Xcel Energy Center next October.