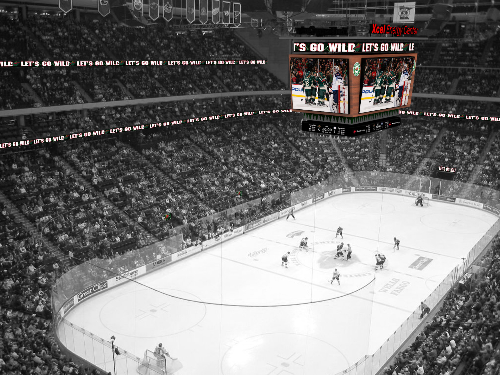 July

2

, 2014
Minnesota Wild to Partner With Daktronics to Provide Technology Renovation at Xcel Energy Center
New HD Video Display in Main Scoreboard Will Be Centerpiece of Project
The National Hockey League's (NHL) Minnesota Wild announced today it has partnered with Daktronics (Nasdaq – DAKT) of Brookings, S.D. and Redwood Falls, Minn., to manufacture and install a comprehensive technology upgrade at Xcel Energy Center in Saint Paul, Minn., that will include a new custom HD LED center-hung video board.

Daktronics was the original provider of the video boards and other LED displays at Xcel Energy Center in 2000, displays that at the time set a new standard for the in-arena experience across the country. Daktronics was selected again this summer and challenged with a renewed goal: to create a new standard and take the fan experience to a new level.

"Daktronics is a proven leader in this industry and we are confident and really excited about adding these new technologies and what they will mean for in-arena opportunities," said Matt Majka, Minnesota Wild Chief Operating Officer. "We want to enhance our home ice advantage and give back to the fans what they give us each and every night."

The new center-hung video board will be nearly six times larger than the current one, stretching from blue line to blue line. Although larger, its size was intentionally selected to complement the game or event, rather than dominate it. The design will feature the latest technology available and incorporate the North Woods motif already conveyed throughout the arena.

Additional upgrades will include replacement of outdoor marquees and ribbon displays that encircle the interior arena fascia. The new elements will be largely manufactured in Minnesota and installed over the summer, with the official unveiling planned for the Wild's first home preseason game on Sept. 27 against the Winnipeg Jets.

Xcel Energy Center first opened its doors in September 2000 and has operated with its original LED signage technology ever since. The technological improvements are the first of two significant projects planned to ensure the arena can continue to attract world-class events that generate significant economic impact for Saint Paul and the surrounding region, in addition to extending the arena's longevity. A full seat replacement is scheduled to begin in 2015.

"We want to ensure that Xcel Energy Center continues to be one of the best arenas in the world," said Jack Larson, Vice President and General Manager of the venue. "It's vital to attracting the best events and keeping fans coming back to Saint Paul year after year."

All displays will incorporate excellent image clarity and contrast; wide-angle viewing capability will provide fans with a clear view of the displays from any seat in the arena.

The new center-hung configuration will consist of 10 LED video displays. The two main displays will each measure approximately 19 feet high by 37.5 feet wide. The two end displays will measure approximately 19 feet high by 24 feet wide. The top ring will measure 3 feet high by 145 feet wide and the bottom ring will measure 3 feet high by 120 feet wide. Four circular displays, two on each side of the main video displays, will each measure more than 4 feet in diameter.

The main displays and end displays can show one large image for maximizing live video and instant replays, or they can be divided into separate windows to show a variety of statistics, scoring information, graphics and animations, and sponsor advertisements. The rings and circle displays will provide the opportunity to supplement information shown on the main displays with additional statistics, advertisements and other graphics.

"We're honored to continue our partnership with the Minnesota Wild and improve the fan experience at Xcel Energy Center," said Tony Mulder, Daktronics sales. "It's a testament to our American-manufactured product and continued customer support that the team has selected Daktronics to meet their video display needs more than a decade after our initial partnership began. We're excited to accept the challenge they have presented us with and we look forward to seeing the successful installation making an impact this fall."

Daktronics will also be including its powerful Show Control System with this installation. This industry-leading system provides a combination of display control software, world-class video processing, data integration and playback hardware that forms a user-friendly production solution. For more information on Show Control, visit www.daktronics.com/show.

Minnesota Wild Season Tickets for the 2014-15 season including Full Season, Half Season and 11-Game plans are available now. More information on season tickets is available at tickets.wild.com, or by contacting a Wild Ticket Sales Representative at 651-222-WILD.

About Daktronics
Daktronics helps its customers to impact their audiences throughout the world with large-format LED video displays, message displays, scoreboards, digital billboards and control systems in sport, business and transportation applications. Founded in 1968 as a USA-based manufacturing company, Daktronics has grown into the world leader in audio-visual systems and implementation with offices around the globe. Discover more at www.daktronics.com.