Apr

17

, 2023
Erykah Badu June 30, 2023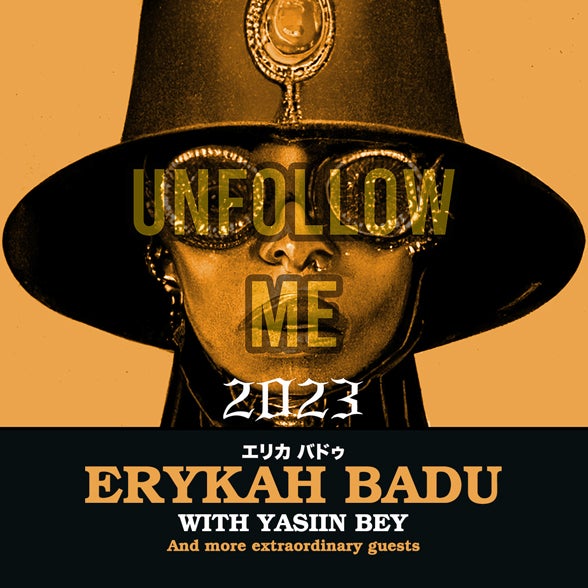 Saint Paul, MN -
WHAT: BaduWorld, Inc., announces Erykah Badu, Grammy™ award-winning singer-songwriter and performance artist, is hitting the road on her nationwide "Unfollow Me" Tour, along with hip-hop's most introspective and insightful artist, yasiin bey. The predominantly arena concerts, produced by Outback Presents, promises an out-of-this-world, surrealist atmosphere. The tour will touch down in 25 cities throughout the U.S. between June 11, 2023 A.D., and July 23, 2023 A.D.
TICKETS: Tickets go on sale Thursday, April 20th at 2:22 pm local time at www.unfollowmetour.com.
For more information about the tour, visit www.unfollowmetour.com.
WHEN & WHERE:
The tour takes off in San Antonio, Texas, and makes its return landing in Badu's hometown, Dallas, Texas, on July 23, 2023. See full list of cities and dates below:
Sunday, June 11, 2023
San Antonio, TX
AT&T Center
Tuesday, June 13, 2023
Glendale, AZ
Desert Diamond Arena
Thursday, June 15, 2023
San Diego, CA
Pechanga Arena
Friday, June 16, 2023
Las Vegas, NV
Michelob Ultra Arena
Saturday, June 17, 2023
Los Angeles, CA
Crypto.com Arena
Tuesday, June 20, 2023
Sacramento, CA
Golden 1 Center
Wednesday, June 21, 2023
Oakland, CA
Oakland Arena
Friday, June 23, 2023
Seattle, WA
WaMu Theater
Monday, June 26, 2023
Denver, CO
Ball Arena
Wednesday, June 28, 2023
St. Louis, MO
Enterprise Center
Friday, June 30, 2023
St. Paul, MN
Xcel Energy Center
Saturday, July 01, 2023
Chicago, IL
United Center
Sunday, July 02, 2023
Detroit, MI
Little Caesars Arena
Friday, July 07, 2023
Boston, MA
TD Garden
Saturday, July 08, 2023
New York, NY
Madison Square Garden
Sunday, July 09, 2023
Philadelphia, PA
TD Pavilion at the Mann
Tuesday, July 11, 2023
Newark, NJ
Prudential Center
Wednesday, July 12, 2023
Norfolk, VA
Chartway Arena
Thursday, July 13, 2023
Washington DC
Capital One Arena
Saturday, July 15, 2023
Atlanta, GA
State Farm Arena
Sunday, July 16, 2023
Charlotte, NC
Spectrum Center
Tuesday, July 18, 2023
Nashville, TN
Bridgestone Arena
Wednesday, July 19, 2023
Birmingham, AL
Legacy Arena at the BJCC
Friday, July 21, 2023
Memphis, TN
FedExForum
Sunday, July 23, 2023
Dallas, TX
American Airlines Center
MEDIA INFORMATION & CONTACTS
For more information visit the UNFOLLOW ME PRESS ROOM
To apply for press credentials, click HERE.
Badu World: Carla Sims | carla@baduworld.com
yasiin bey: Hugh Warrender | hugh@consolidatedoptions.com
IMPORTANT DISCLAIMER
Please note that yasiin bey no longer goes by the moniker 'Mos Def', nor has he for many years, and as such Consolidated Options Limited only permits him to be billed and promoted as "yasiin bey", ALWAYS in all lower-case lettering. It is expressly and implicitly agreed that collaborators or media outlets do not use the name "Mos Def" (a United States federally registered trademark the license of which to use is NOT granted) in the promotion and marketing of any performance, appearance or participation unless otherwise approved. Likewise he requests that the acronym or phrase 'Professionally Known As' or 'PKA' anything similar not be used. By extension, any publication, promotion, marketing campaign or other public media outlet wishing to use the expression 'FKA' (formerly known as) or variations thereof, please seek expressed permission from Consolidated Options Limited before posting, [printing] or publication. Contact: hugh@consolidatedoptions.com.
ABOUT ERYKAH BADU
Erykah Badu is a powerful creative force who transcends music, film, and fashion. She is renowned for her songwriting, singing, and production skills as well as for her capacity to heal, promote female wellness, challenge oppressive structures, and uphold the values of her Afrocentric and Black Feminist roots. Her imaginative blend of soul, funk, hip-hop, jazz, and gospel has earned her multiple awards and praise since the release of her debut album, Baduizm (1997), continuing through her fifth release, New Amerykah Part Two: Return Of The Ankh (2010), plus every mixtape, soundtrack, single, video, and musical collaboration in between. Forever the innovator, she established a livestream company, revolutionized home concerts, and launched an online exchange called BaduWorldMarket.com—all in response to COVID. Recently, Badu's cannabis accessory brand, Apple Trees, collaborated with the international cannabis lifestyle brand, Cookies, to introduce That Badu, a premium line of cannabis. Badu's fashion influence has always been a natural extension of her artistry. From her appearances at Fashion Week and the MET Gala to her numerous magazine covers and her capsule collection with luxury brand Marni, Badu's music, art, healing, and eclectic fashion statements have made her a cultural icon like no other. To fans and followers who may look to her as a leader and a source of inspiration, eagerly awaiting her next release, both in music and in the market, she says, "Don't follow me; chart your own path."
ABOUT yasiin bey
yasiin bey is a Brooklyn-born multimedia artist who has been working professionally since 1987. He has appeared in numerous stage and film productions during his career and is well regarded amongst his peers and audiences alike. He is a founding member of the musical duo Black Star with Talib Kweli, who released their seminal self-titled debut in 1998 which was followed by his own solo debut under the moniker Mos Def™️, Black On Both Sides in 1999, both regarded as pivotal contributions to contemporary culture. The editors of About.com listed him as the 14th greatest rapper on their "50 Greatest Rappers of All Time'' list.
He is a nominee and recipient of numerous awards, including an Obie Award for his work in the Suzan Lori Parks play "F***ing A". He received Emmy™ and Golden Globe™ nominations for his portrayal of Dr. Vivien Thomas in "Something The Lord Made," and several Grammy nominations for his albums, The New Danger and The Ecstatic. He was also awarded a Peabody for his work as a producer and host of "Def Poetry Jam ''among others.
In 2019, Mr. bey made his debut as visual artist with his Brooklyn Museum exhibition "Negus," which featured works from Julie Mehretu, Ala Ebtekar, a collaboration with Jose Parla, as well as a large scale textile mural by Mr. bey entitled "Pleasant." The exhibition also featured his latest solo musical offering "Negus," a performance piece,produced by Lord Tusk and Steven Julien. He is currently preparing a new slate of works as well as collaborating with the esteemed painter Anuar Khalifi. Mr. bey is represented by The Third Line Gallery in Dubai.
More recently yasiin bey has worked with long-time collaborators Dave Chappelle and Talib Kweli to create "The Midnight Miracle," a podcast released on Luminary bringing the three together in a new genre of audio encompassing music, conversation, debate and notable guests. The program is regarded by many as a watershed moment in podcasting, with the New York Times remarking "Unpredictable … borderline hypnotic … the world's most interesting dinner party."
In 2022, with Talib Kweli, they released a new, long-awaited Black Star album, No Fear of Time, produced by Madlib, on the podcasting platform Luminary.