July

12

, 2023
Eagles November 18, 2023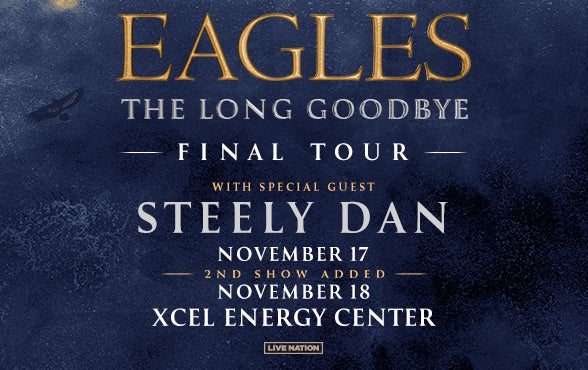 Saint Paul, MN - Due to overwhelming demand for tickets, second shows have been added to the Eagles' "The Long Goodbye" tour for Madison Square Garden, TD Garden, Ball Arena, Gainbridge Fieldhouse, State Farm Arena and Xcel Energy Center.
Tickets for the newly announced shows will go on sale Friday, July 14 at 10 a.m. local time. Presale tickets for the added New York and Denver shows are already on sale. Presale tickets for the added Boston, Indianapolis, Atlanta and Saint Paul shows go on sale tomorrow, Thursday, at 10 a.m. local time.
Friday, September 8 New York, NY Madison Square Garden
Wednesday, September 13 Boston, MA TD Garden
Friday, October 6 Denver, CO Ball Arena
Tuesday, October 10 Indianapolis, IN Gainbridge Fieldhouse
Saturday, November 4 Atlanta, GA State Farm Arena
Saturday, November 18 Saint Paul, MN Xcel Energy Center
The Eagles' long-time contemporaries and fellow Hall of Famers, Steely Dan, will be joining these historic shows and commemorating their own 50+ year career.
During "The Long Goodbye," the Eagles – Don Henley, Joe Walsh, Timothy B. Schmit, with Vince Gill and Deacon Frey - will perform as many shows in each market as their audience demands. The tour is expected to continue into 2025.
Based on initial response Live Nation, the tour's promoter, said "The Long Goodbye" will be adding many more cities before this tour concludes.
Over the band's more than 50 years of touring, the Eagles have performed more than 1,000 concerts around the world, accounting for more than 15 million tickets. Eagles' tours have consistently ranked in the Top 10 of both concert industry publications, Billboard and Pollstar.
In the Fall of 1971, the Eagles formed, pioneered, and personified a uniquely American musical style blending country, folk, R&B, rock, and pop sensibilities, and would go onto become one of the most creatively and commercially successful bands of all time. In today's faddish, fractured, rock landscape, the Eagles retain an appeal that transcends both generation and genre, cementing the band's role as enduring musical icons.
The Eagles have sold more than 150 million albums worldwide, scored six #1 albums, and topped the singles charts five times. They earned six GRAMMY Awards, were inducted into the Rock & Roll Hall of Fame in 1998, in their very first year of eligibility, and received the Kennedy Center Honors in 2016.
The band's Greatest Hits 1971-1977 is the best-selling album in history, with the RIAA certifying the collection at 38-times Platinum. Hotel California is the third best-selling U.S. album in history, certified 26-times Platinum. After its release in 1976, it topped the charts and earned two GRAMMY Awards for "New Kid In Town" and "Hotel California."
"The Long Goodbye" tour is proudly presented by Live Nation.
THE LONG GOODBYE TOUR DATES:
Thursday, September 7 New York, NY Madison Square Garden
Friday, September 8 New York, NY Madison Square Garden
Monday, September 11 Boston, MA TD Garden
Wednesday, September 13 Boston, MA TD Garden
Saturday, September 16 Newark, NJ Prudential Center
Wednesday, September 20 Belmont Park, NY UBS Arena
Thursday, October 5 Denver, CO Ball Arena
Friday October 6 Denver, CO Ball Arena
Monday, October 9 Indianapolis, IN Gainbridge Fieldhouse
Tuesday, October 10 Indianapolis, IN Gainbridge Fieldhouse
Friday, October 13 Detroit, MI Little Caesars Arena
Tuesday, October 17 Cleveland, OH Rocket Mortgage FieldHouse
Thursday, November 2 Atlanta, GA State Farm Arena
Saturday, November 4 Atlanta, GA State Farm Arena
Tuesday, November 7 Charlotte, NC Spectrum Center
Thursday, November 9 Raleigh, NC PNC Arena
Tuesday, November 14 Lexington, KY Rupp Arena
Friday, November 17 Saint Paul, MN Xcel Energy Center
Saturday, November 18 Saint Paul, MN Xcel Energy Center