Oct

23

, 2023
93X Twin City Takeover May 4, 2024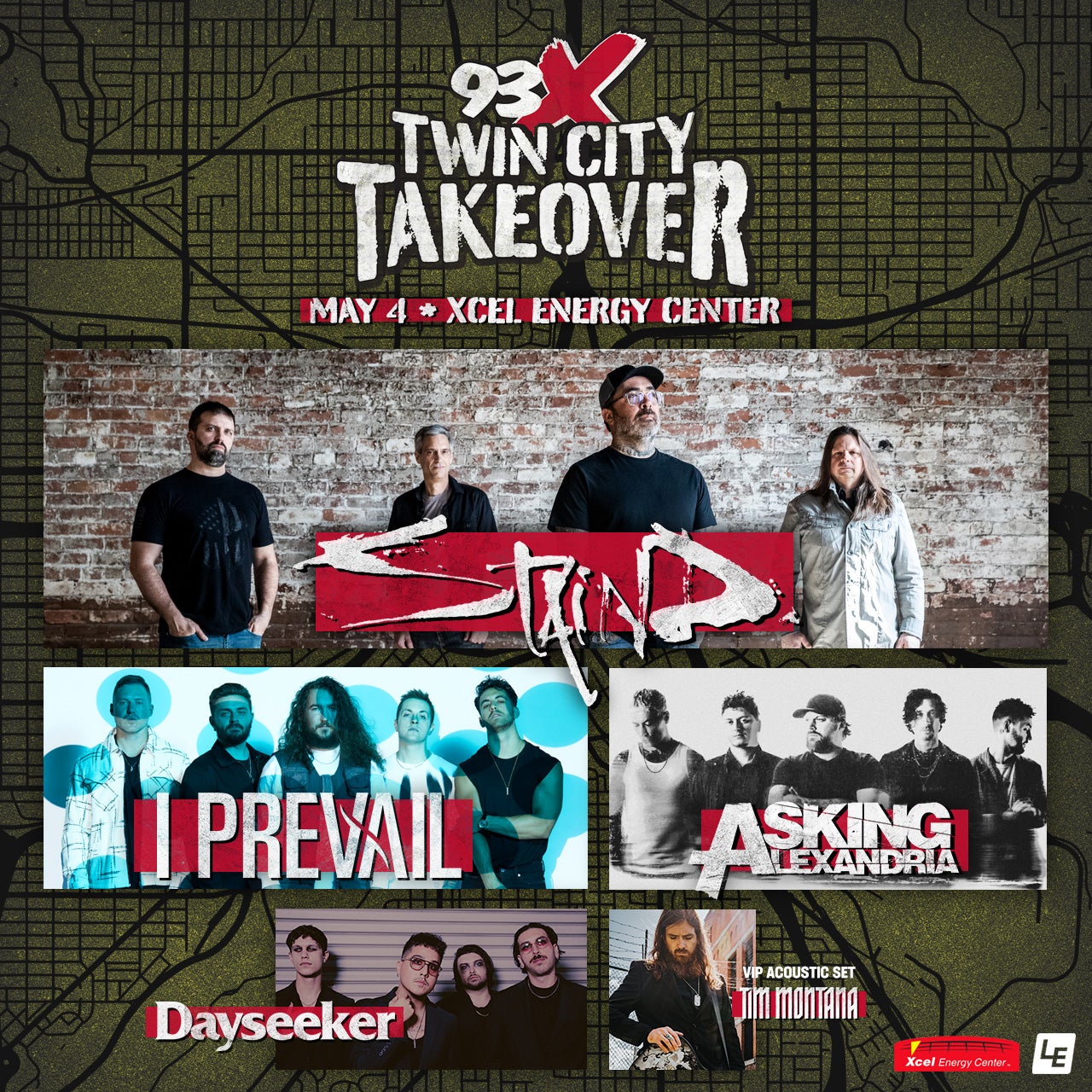 Saint Paul, MN - 93X (KXXR-FM) is thrilled to again take over the Twin Cities with Twin City Takeover 2024 at Xcel Energy Center on May 4, 2024. Multi-platinum recording artists STAIND is headlining the show and will be joined on the main stage by GRAMMY-nominated I Prevail, Asking Alexandria, and Dayseeker.
"Like so many rock fans around the world, we're pumped that Staind is back, and it's awesome that the band is debuting their new songs for Minnesota at the Twin City Takeover," said 93X Program Director Derek Madden. "We've been hoping to get I Prevail to join us for a 93X show for years, so to be able to add them to this show, along with great acts like Asking Alexandria, Dayseeker, and Tim Montana, is a real thrill. We can't wait to see you at Xcel Energy Center in May."
Tickets start at just $35. Fans can purchase a VIP ticket, which allows early entry into an exclusive preshow party, a signing with Staind and acoustic performances from Tim Montana and Asking Alexandria. The VIP ticket also includes the best seats in the house, complimentary finger foods, full cash bar at the preshow party, and a commemorative VIP laminate.
Tickets for 93X Twin City Takeover go on sale to the general public Thursday, October 26 at 10 a.m. at ticketmaster.com. For more information on the 93X Twin City Takeover, visit 93X.com.
Link to Available Media Logo & Artist Photos
Staind is comprised of lead vocalist and rhythm guitarist Aaron Lewis, lead guitarist Mike Mushok, bassist and backing vocalist Johnny April, and drummer Sal Giancarelli. Over their career, the band has released seven studio albums and eight Top 10 singles, selling over 15 million albums worldwide. RIAA-certified 5x platinum Break The Cycle featured the smash single, "It's Been Awhile," one of the most played songs in modern rock radio history, spending 20 weeks at Number 1. Staind has released their first studio album in 12 years called "Confessions of the Fallen" featuring #1 hit at rock radio "Lowest in Me" and the sensational smash "Here and Now".
Since first joining forces in the metro Detroit area in the summer of 2013, key songwriters Brian Burkheiser, Eric Vanlerberghe, and guitarist Steve Menoian have immensely impacted the world of alternative music. From their powerful debut album Lifelines to their twice GRAMMY-nominated Trauma, I Prevail quickly became one of rock's biggest breakthrough bands. Their latest album, TRUE POWER, proves they're running with that very energy, revealing songs designed to empower fans like never before.
Asking Alexandria offers reverence to touchstone icons like Led Zeppelin, AC/DC, and Queen, with a relentless urgency harkening back to their early days as hard-partying Warped Tour upstarts. In 2023, long-time comrades Ben Bruce (lead guitar), Danny Worsnop (vocals), Cameron Liddell (guitar), Sam Bettley (bass), and James Cassells (drums) ride a creative high with their forthcoming eighth studio album kicked off by the immediate success of the arresting, catchy, and sober "Dark Void."
Dayseeker embodies what a rock band can be in the 21st century. Untethered from rules and agnostic of genre confines, the Southern California quartet—Rory Rodriguez [vocals], Gino Sgambelluri [guitar], Ramone Valerio [bass], and Mike Karle [drums]—exist outside of any boundaries. As such, they seamlessly absorb culture at lightspeed, layering hypnotic hard rock and metallic catharsis above soundscapes punctuated by glistening post-pop, experimental indie, and alternative R&B. Tallying hundreds of millions of streams, selling out shows, and earning acclaim from the likes of Alternative Press and others, the band crystallized this outlier vision on their 2022 fifth full-length offering, Dark Sun [Spinefarm Records].
Tim Montana may be known as a wild man, but he asserts himself as a tried-and-true storyteller. He went from a rough youth spent off-the-grid in a trailer to captivating a devout global fanbase, dropping successful independent albums, and selling out shows. He's collaborated with ZZ Top's Billy Gibbons, co-wrote radio hits for Kid Rock, and formally introduced himself on a series of 2023 singles for BBR Music Group/BMG, beginning with "Devil You Know."
About Xcel Energy Center
Regarded as one of the finest arenas in the world, Xcel Energy Center is a one-of-a-kind, multi-purpose sports and entertainment facility located in downtown Saint Paul, home to more than 150 sporting and entertainment events and roughly 1.5 million visitors each year. Xcel Energy Center is known for being passionate about creating the best experiences imaginable for their guests, and that includes providing a setting that is a model of sustainable practices. Our efforts have been designed to integrate into our daily operations and our culture. This ensures that our efforts and results will have lasting benefits to our community. Xcel Energy Center is honored to have been recognized as leaders in sustainability from various organizations within the community. Xcel Energy Center is owned by the City of Saint Paul and managed by Saint Paul Arena Company, an affiliate of Minnesota Sports & Entertainment, parent company of the Minnesota Wild. For more information, visit xcelenergycenter.com.
About Ledge Entertainment, LLC
Founded in 2006, Ledge Entertainment produces unforgettable live music events and experiences for media partners and premier brands such as Pernod Ricard, The United Nations Development Programme, Minnesota Twins, and Direct TV. Led by music industry veteran Mike Childs, Ledge has produced over 3,000 special events that energize and excite fans nationwide, feature top artists like the Foo Fighters, Justin Bieber, and Jelly Roll, and light up remarkable venues and locations like Alcatraz and Miami's Bayfront Park. Ledge manages every aspect of branded entertainment, from booking and production to everything in between. For more information, visit ledgeent.com.
Media Contact
Jennifer Renspie, Crackerjack Media (on behalf of Ledge Entertainment), jennifer@crackerjackmedia.com