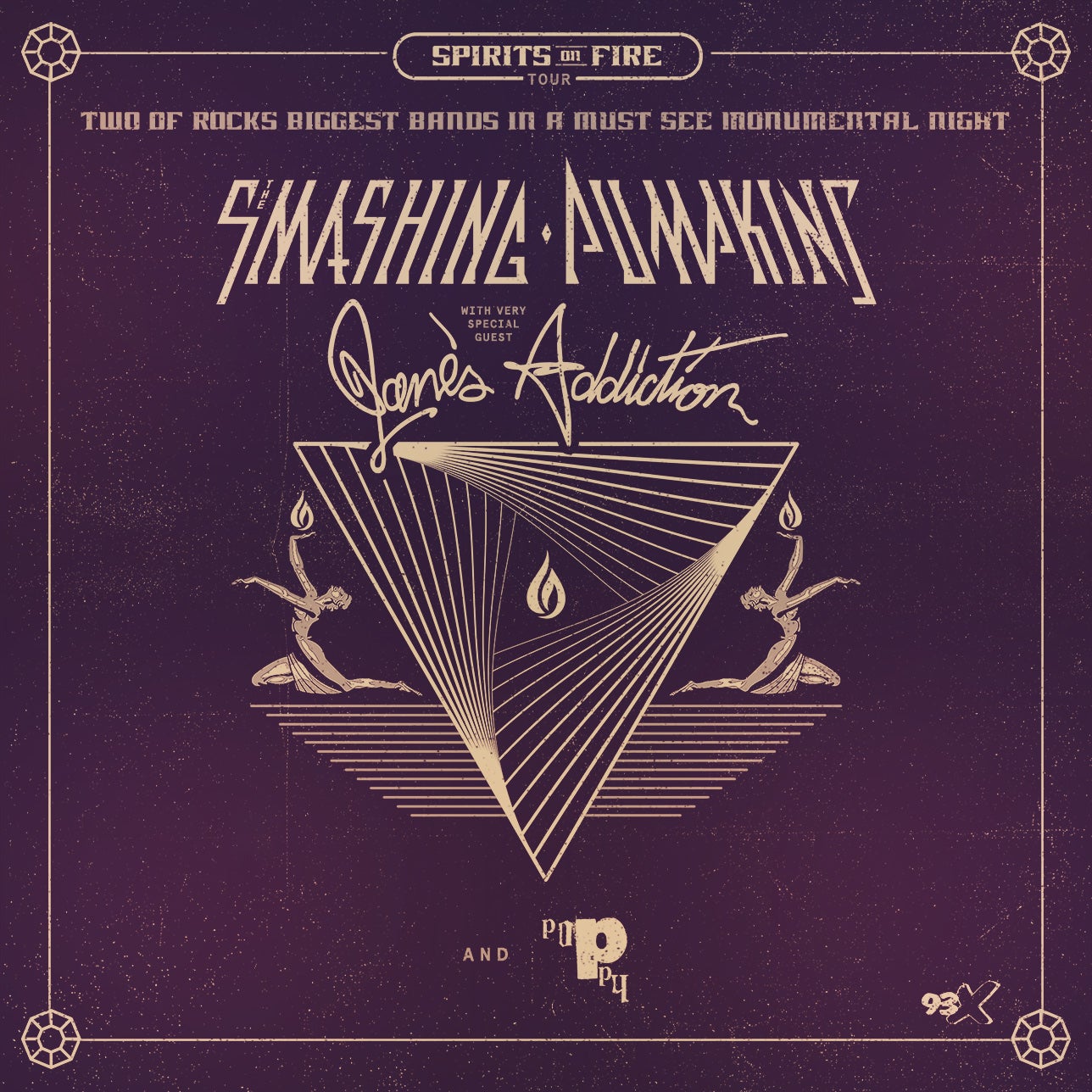 Event Info
The Smashing Pumpkins have announced their North American arena tour with special guest Jane's Addiction. When The Smashing Pumpkins first emerged out of Chicago in 1988, the world had never heard a band quite like them. They spun together rock, pop, shoe-gaze, metal, goth, psychedelia, and electronic into a kaleidoscope of saccharine melodies, fuzzy distortion, bombastic orchestration, incendiary fretwork, eloquent songcraft, and unshakable hooks.
Upon their formation, their sound was different, iconoclastic, and wholly new—and it still is today. As a result, they've sold over 30 million albums worldwide and collected two GRAMMY® Awards, two MTV VMAs, and an American Music Award. Their catalog is highlighted by the platinum Gish [1991], the quadruple-platinum Siamese Dream [1993], diamond-certified Mellon Collie and the Infinite Sadness [1995], platinum Adore [1998], and gold Machina/The Machines of God [2000].
In 2018, they embarked on one of their most successful tours ever, the Shiny and Oh So Bright Tour, followed by SHINY AND OH SO BRIGHT, VOL. 1 / LP: NO PAST. NO FUTURE. NO SUN. Meanwhile, 2020 saw the release of the band's eleventh full-length and latest double album, CYR. As prolific as ever, The Smashing Pumpkins confirmed they will release more music in 2022 as they resume touring.
Bag Policy

For enhanced safety and speed of entry, we encourage guests not to bring bags of any kind. Bags, purses and backpacks are not allowed. Clutch, wristlet and wallets sized 4" x 6" x 1.5" or smaller are allowed and subject to inspection. Medical bags and diaper bags are allowed, however, they are required to pass through x-ray screening prior to entry. Guests with medical and diaper bags must enter the arena at Gate 1. Please allow extra time for entry.

Dining

The Michelob Golden Light Taphouse is located at section 120 (gate 4) and opens at 5:30 p.m. The sports-themed restaurant features signature specialty wings, sandwiches and shareables, plus a full service bar.

Mobile Entry

Pro tip for faster mobile entry: Add your tickets to your phone's "wallet" and have a fully charged battery. This bypasses the need for Wi-Fi or cellular data at the gates.

Mobile tickets are like an airline boarding pass which can be accessed with a smartphone via the Ticketmaster app or mobile site in a bar code format and scanned at the gate for entry. Mobile tickets are protected by Ticketmaster's SafeTix™ technology. SafeTix™ continually generates a new and unique barcode that automatically refreshes every few seconds so the barcode cannot be stolen or copied, keeping your tickets safe and secure. Screen shots are not accepted for entry.

Cashless Payment Only

Only credit card and mobile payment (Apple Pay, Google Pay, etc.) are accepted for concessions, retail and parking transactions. Only credit card payment is accepted for box office transactions. Cash is not accepted.

Concessions - Mobile Ordering and Cashless Payment

Xcel Energy Center now has convenient and contactless in-arena mobile ordering for concessions using the NHL Mobile App, or visit the Guest Services desks in the arena for information about our menu offerings.

Credit card and mobile payment (Apple Pay, Google Pay) are accepted for concessions.

Concession availability may vary based on event.

Face Coverings and COVID-19 Protocols

Face coverings are currently not required to attend this event. Guests who prefer to wear a mask are encouraged to continue to do so.

By purchasing tickets to events at Xcel Energy Center, unless prohibited by law, you agree to abide by the health and safety measures in effect at the time of the event, which may include, but not be limited to, wearing masks or providing proof of vaccination status.