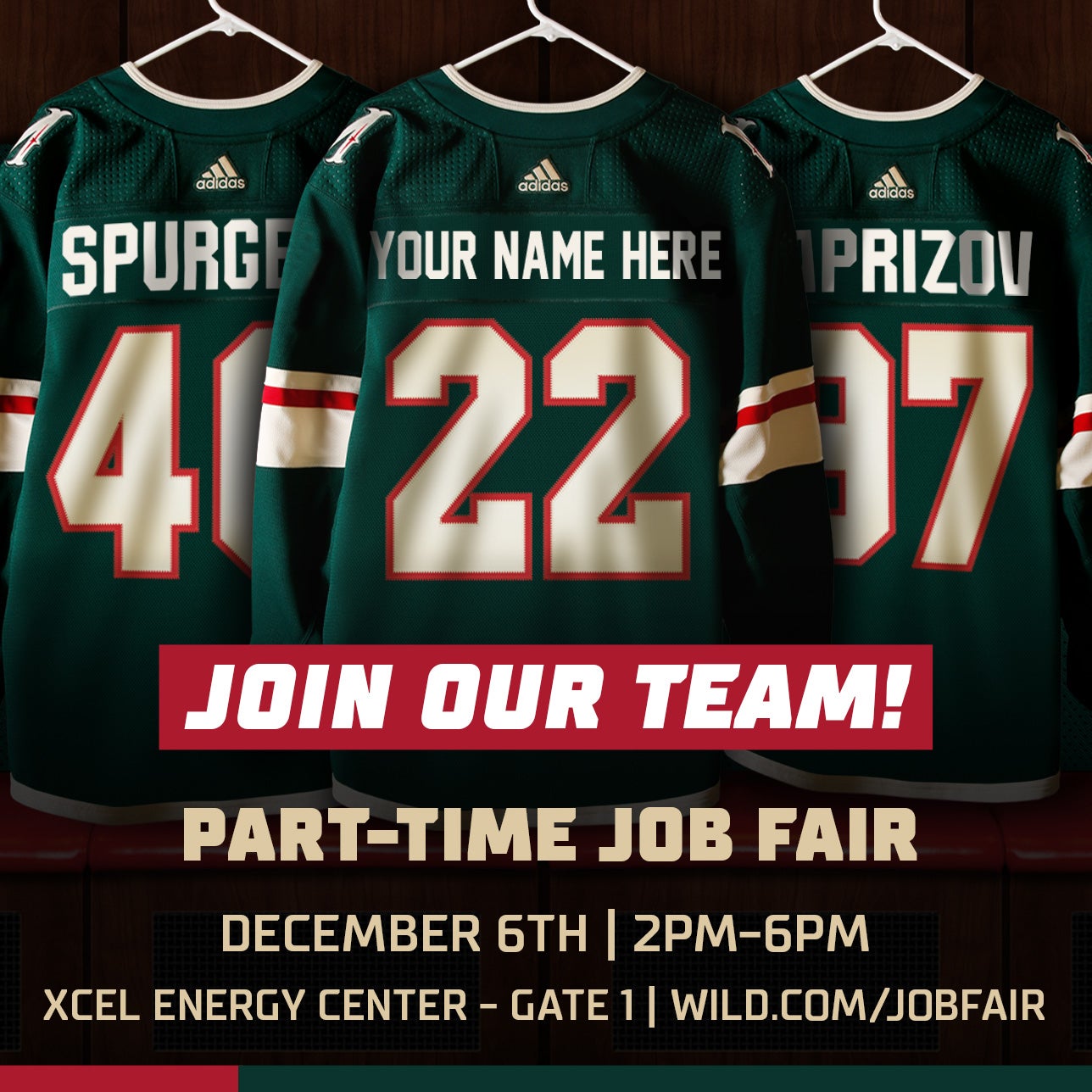 Event Info
Join us at Xcel Energy Center for our Part-Time Job Fair.
Tuesday, December 6 from 2:00 - 6:00 p.m.
Located at Gate 1 in Xcel Energy Center - 199 W. Kellogg Boulevard, St. Paul, MN 55102.
Starting pay $15/hour.
Offers on the spot to candidates who qualify.
Free parking at the RiverCentre Parking Ramp. Tell the attendant you are here for the Part-Time Job Fair.
Walk-ins are welcome, but it's encouraged to apply to a position prior at Wild.com/Careers.
Our part-time staff provides world class experiences, putting service at the heart of everything they do. We have multiple roles for you to interact with our guests. In each of these roles, you are empowered to exceed our guests' expectations, solve problems as you see them and make memories!
ON THE SPOT OFFERS FOR THE FOLLOWING POSITIONS:
Ushers - Welcome guests into the arena, scanning tickets at the gates and assisting with seat location.
Retail Associates - Assist fans in the Hockey Lodge either on the floor or at the register with all their merchandise needs.
Warehouse Associates - Allocate and maintain our inventory and ensure that our Hockey Lodge stores are full, and our website orders get accurately fulfilled.
Jersey Production Operators - Create the ultimate experience for our fans with your attention to detail by making player and custom jerseys.
Custodians - Ensure that our facilities are spotless before, during and after the fun occurs.
Levy Concessions - Provide an amazing experience delivering sustenance to our guests.
Flex Team - Trained in multiple areas of our arena to help where needed. You thrive in a changing environment and demonstrate a positive attitude. For your dedication to your team and our guests, this role pays $16/hour.
Box Office – Assist fans with ticket purchases and/or ticket resolution for the many events at Saint Paul RiverCentre and Xcel Energy Center.
Split the Pot Raffle – Work Wild games supporting many nonprofit organizations through the sale of raffle tickets.
THE FINE PRINT:
Must be 16 years of age or older.
Ability and flexibility to work evenings, days and holidays.
Must be able to work 50% of all Wild games and events.
In accordance with the ADA, each job will have different physical requirements which may include standing, walking, bending, squatting, climbing stairs and ladders, kneeling, twisting, lifting, grasping, and the ability to lift a minimum of 25 pounds and at times up to 50 pounds. Should an accommodation be requested, Minnesota Sports & Entertainment will evaluate the request and provide reasonable accommodations.
We are an equal opportunity employer and all qualified applicants will receive consideration for employment without regard to race, color, religion, national origin, sex, sexual orientation, age, disability, gender identity, marital or veteran status, or any other protected class.