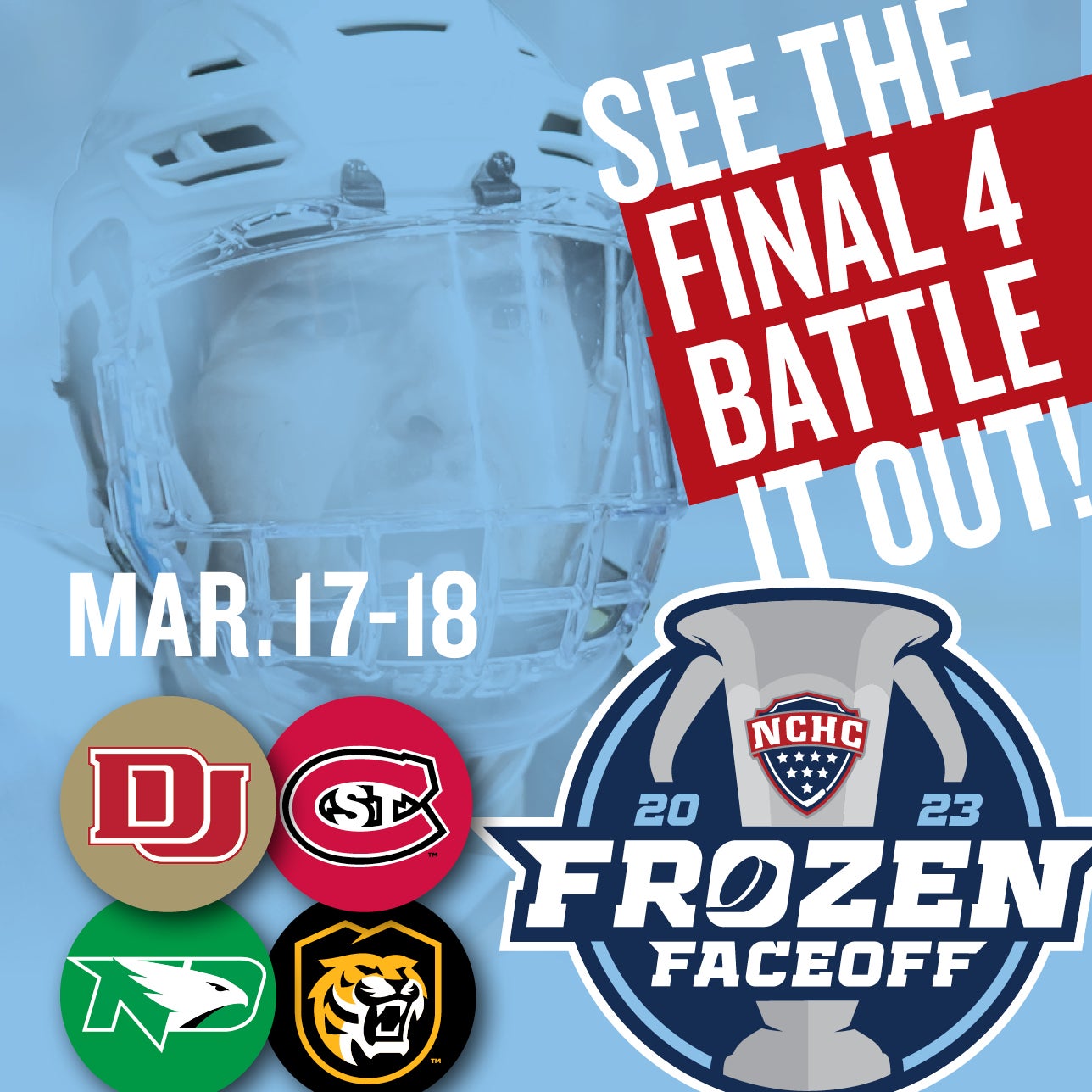 Event Info
NCHC FROZEN FACEOFF GAME SCHEDULE
Friday, March 17 (two games, one ticket)
Colorado College vs. Denver - 4:00 p.m.

North Dakota vs. St. Cloud State - 7:30 p.m.
Saturday, March 18
Minnesota Wild vs. Boston Bruins - 1:00 p.m. (separate ticket required)

Championship Game - 7:30 p.m.
The National Collegiate Hockey Conference (NCHC) returns to Saint Paul for the Frozen Faceoff on March 17-18, 2023. The Frozen Faceoff will not include a third-place game, but rather there will be a Minnesota Wild game on the afternoon of March 18. An NCHC Fan Fest will be held prior to games each day. Other events, including the annual NCHC Fan Skate and NCHC Awards Celebration, will take place on the eve of the Frozen Faceoff on March 16.
Single day-session tickets are on sale now for both semifinal games on Friday, March 17 or a Saturday-session ticket provides access to the championship game on March 18. All-session tickets consist of tickets for both days (two tickets total) and all three Frozen Faceoff games.
Group Information

Groups (9+) call 651-312-3486.

Pick Your Frozen Faceoff Contest hosted by Visit Saint Paul

Visit Saint Paul wants YOU to Pick Your Frozen Faceoff!

The contest involves fans predicting the four NCHC teams that they believe will advance to the 2023 NCHC Frozen Faceoff on March 17-18. Next, fans select the two teams predicted to make the Championship game and the 2023 NCHC Frozen Faceoff champion. The final question requires fans to guess how many total goals will be scored during all games of the 2023 NCHC Frozen Faceoff.

One lucky fan who predicts everything correctly for the 2023 championship will win two all-session tickets to the 2024 NCHC Frozen Faceoff at Xcel Energy Center on March 22-23, as well as a two-night stay at InterContinental Saint Paul Riverfront on March 22-23. In addition, the Pick Your Frozen Faceoff Contest hosted by Visit Saint Paul winner will receive a $100 gift certificate to Herbie's On The Park adjacent to Xcel Energy Center.

For complete rules of the Pick Your Frozen Faceoff Contest hosted by Visit Saint Paul or to enter the contest by mail, click here. Contest ends on March 9 at 10:00 p.m. CT. The winner of this year's contest will be announced on Monday, March 20.

NCHC Fan Fest

Visit Saint Paul invites you to celebrate college hockey at the NCHC Fan Fest. Enjoy ice-cold beverages, tasty food, interactive hockey games and music outdoors near The Apostle Supper Club across West 7th Street from Xcel Energy Center.

Friday, March 17: 2 p.m. - 6 p.m.
Saturday, March 18: 3 p.m. - 7 p.m.

NCHC Fan Fest is free and open to the public.

Fan Hotels

Book your discounted hotel rooms for the 2023 NCHC Frozen Faceoff now! For a limited time, select hotels in downtown Saint Paul are offering special rates for Frozen Faceoff fans. Experience the ultimate hockey weekend in Saint Paul March 17-18!

NCHC Student Tickets

The NCHC is offering special ticket pricing for students of NCHC member schools. NCHC students may purchase up to two (2) all-session ticket packages in select lower level sections for $45 each. Single day-session student tickets for either Friday, March 17 or Saturday, March 18 are available for $25. For information on how to purchase student tickets, contact your school's athletic ticket office. A student ID will be required to enter the arena with student tickets. Certain fees may apply.

Open Practices

NCHC welcomes fans to watch their team make final preparations for the tournament by attending select open practice times.

Thursday, March 16

Practices will be held from 10:15 a.m. - 3:00 p.m.

10:15 a.m. - 11:15 a.m. - Colorado College

11:30 a.m. - 12:30 p.m. - Denver

12:45 p.m. - 1:45 p.m. - St. Cloud State

2:00 p.m. - 3:00 p.m. - North Dakota

Gate 1 of Xcel Energy Center will open at 10:00 a.m. The venue will close at 3:15 p.m. All other practices are closed to the public.

Bag Policy

For enhanced safety and speed of entry, we encourage guests not to bring bags of any kind. Bags, purses and backpacks are not allowed. Clutch, wristlet and wallets sized 4" x 6" x 1.5" or smaller are allowed and subject to inspection. Medical bags and diaper bags are allowed, however, they are required to pass through x-ray screening prior to entry. Guests with medical and diaper bags must enter the arena at Gate 1. Please allow extra time for entry.

Dining

The Reserve, our upscale lounge on the Bremer Bank Suite Level boasts an eclectic, chef-driven menu and an array of cocktail options. This lounge is open to all guests with suite level tickets or reservations. Make a reservation.

Mobile Entry

Pro tip for faster mobile entry: Log on to your Ticketmaster account and add the mobile tickets to your Apple Wallet/Google Wallet app. This bypasses the need for Wi-Fi or cellular data at the gates.

Mobile tickets are like an airline boarding pass which can be accessed with a smartphone via the Ticketmaster app or mobile site in a bar code format and scanned at the gate for entry. Mobile tickets are protected by Ticketmaster's SafeTix™ technology. SafeTix™ continually generates a new and unique barcode that automatically refreshes every few seconds so the barcode cannot be stolen or copied, keeping your tickets safe and secure. Screen shots are not accepted for entry.

Concessions - Mobile Ordering and Cashless Payment

Xcel Energy Center now has convenient and contactless in-arena mobile ordering for concessions using the NHL Mobile App, or visit the Guest Services desks in the arena for information about our menu offerings.

Credit card and mobile payment (Apple Pay, Google Pay) are accepted for concessions.

Concession availability may vary based on event.

Cashless Payment Only

Only credit card and mobile payment (Apple Pay, Google Pay, etc.) are accepted for concessions, retail and parking transactions. Only credit card payment is accepted for box office transactions. Cash is not accepted.