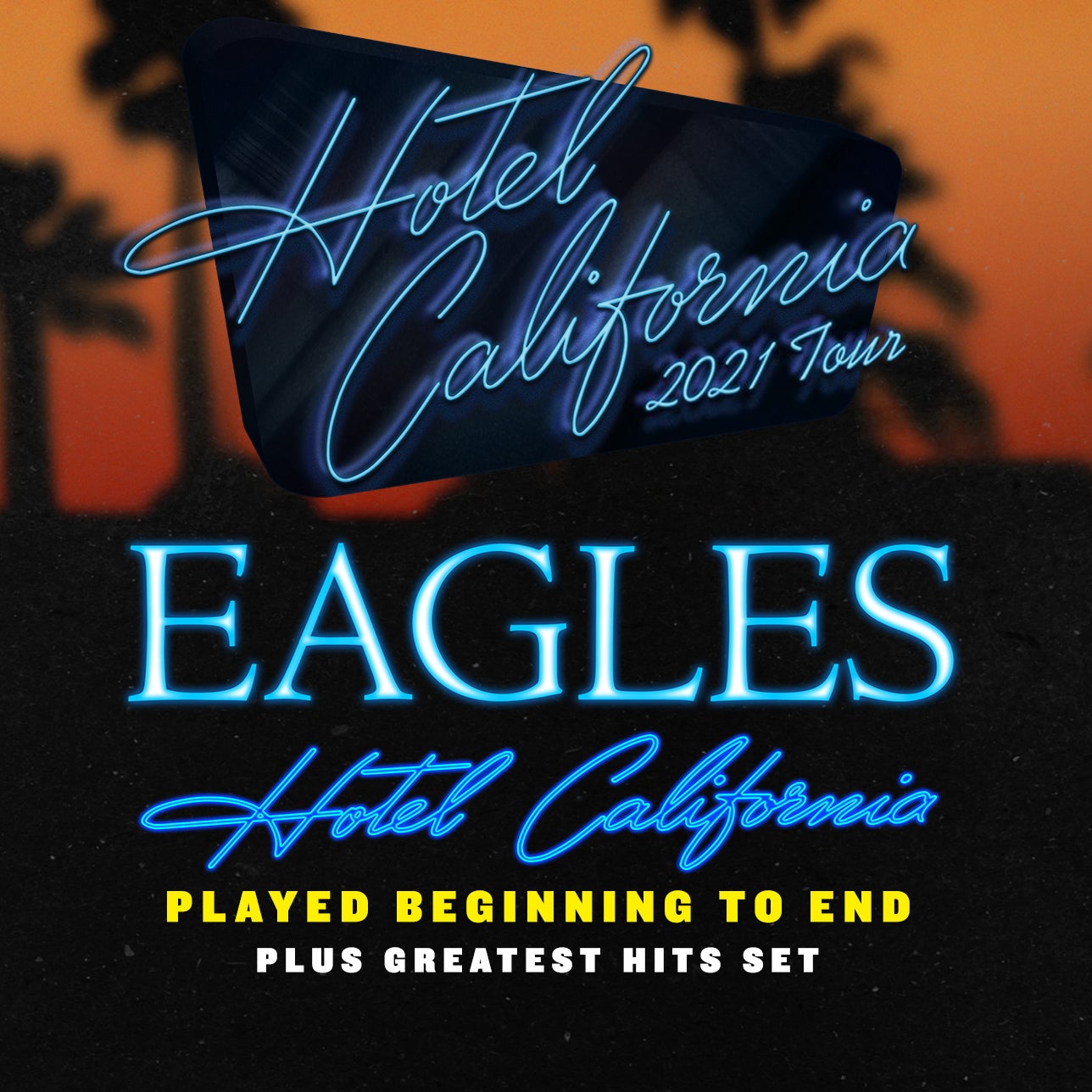 Event Info
Posted May 1, 2020:
The EAGLES - Don Henley, Joe Walsh and Timothy B. Schmit, with Deacon Frey and Vince Gill – have announced that their "Hotel California" concerts in Dallas, Denver, Los Angeles, Phoenix, San Francisco, and St. Paul, have been rescheduled. Fans with tickets to the previously announced 2020 dates are encouraged to hold on to their tickets as they will be honored for the new dates. For more information, visit eagles.com.
ALL PREVIOUSLY PURCHASED TICKETS WILL BE HONORED FOR THE CORRESPONDING NEWLY RESCHEDULED DATE.
Original 2020 date of Friday, April 3 previously rescheduled to Friday, October 16, 2020 => valid for Friday, October 1, 2021.
Original 2020 date of Saturday, April 4 previously rescheduled to Saturday, October 17, 2020 => valid for Saturday, October 2, 2021.
***********************************************************************************************
Eagles - Don Henley, Joe Walsh and Timothy B. Schmit, with Deacon Frey and Vince Gill – are bringing their recent, highly acclaimed "Hotel California" tour to St. Paul, Minnesota on Friday, October 1, and Saturday, October 2, 2021 at the Xcel Energy Center. Each night's concert will feature a "Hotel California" set, with an accompanying orchestra and choir, followed by an additional set of the band's greatest hits. The shows are scheduled to begin at 8 PM and will include a brief intermission between the "Hotel California" and the Greatest Hits sets.
Dining

Bag Policy

In an effort to provide a safe environment, Xcel Energy Center limits the size and type of bags allowed inside the arena. Fans are encouraged to leave non-essential items at home. Fans can only carry into the arena the following style and size bag:

Clear tote (plastic, vinyl or PVC) that does not exceed 12" x 6" x 12" or a plastic storage bag that is maximum one gallon, resealable and clear.
Small bags, such as a small clutch purse, that are approximately the size of a hand with or without a handle or strap will be allowed but must not exceed 5" x 8".
Guests with bags not meeting guidelines will be asked to return them to a vehicle or utilize the onsite bag check. Bag check is available for a fee through binbox and is located at Gates 1 and 3. Xcel Energy Center is not responsible for items left at any of the gates.

Mobile Entry

Pro tip for faster mobile entry: Add your tickets to your phone's "wallet" and have a fully charged battery.

Mobile tickets are like an airline boarding pass which can be accessed with a smartphone via the Ticketmaster app or mobile site in a QR code format and scanned at the gate for entry.

Once you are within 48 hours of your event, log on to your Ticketmaster account and add the mobile tickets to your Apple Wallet/Google Wallet app. Once you have added to the app, your QR code will be accessible for entry. This bypasses the need for Wi-Fi or cellular data at the gates.

Guests are reminded to fully charge their smartphones prior to arriving at the venue in order to access mobile tickets. Click here for more information.