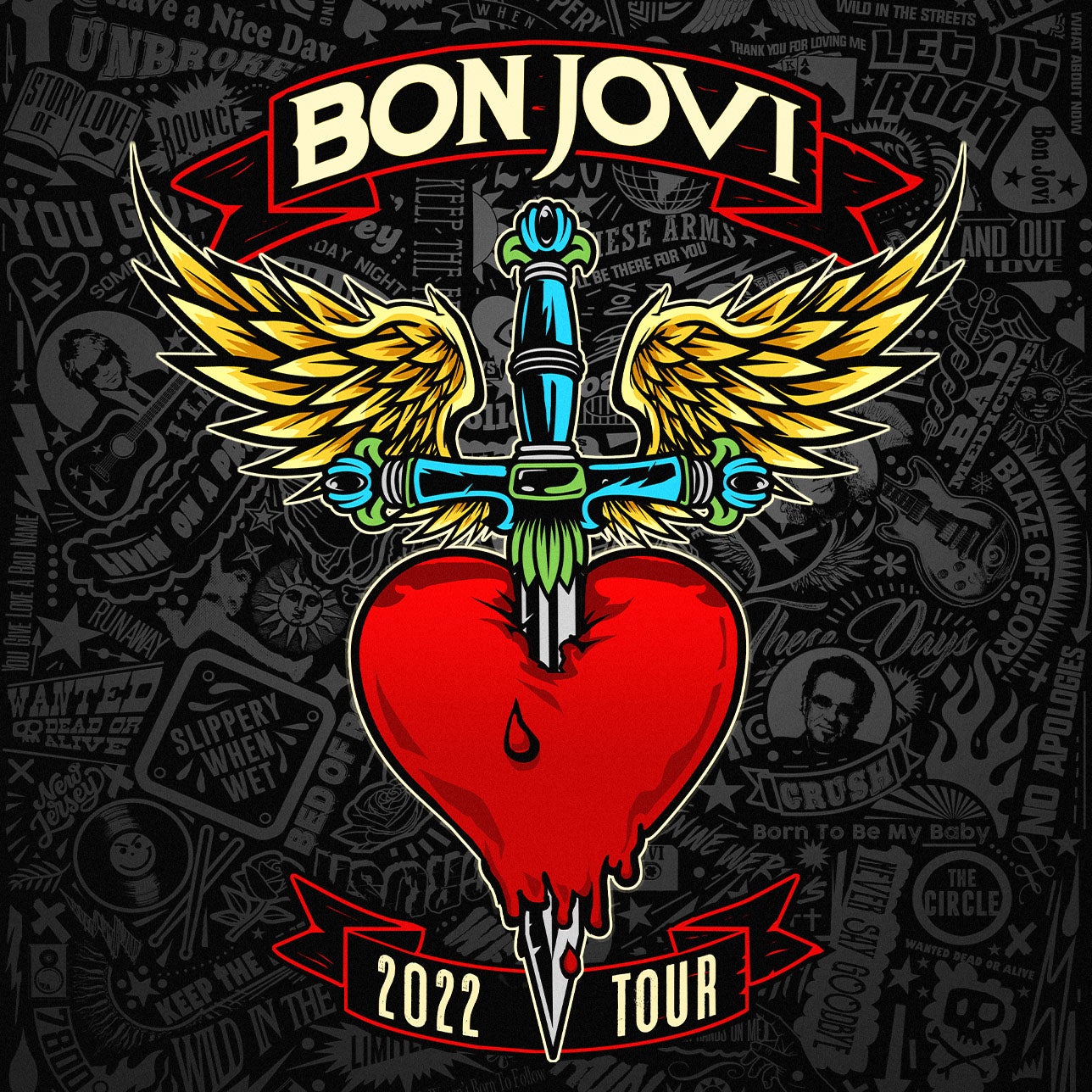 Event Info
Rock & Roll Hall of Fame band Bon Jovi has announced the Bon Jovi 2022 Tour, produced by Live Nation and sponsored by Hampton Water. The tour is scheduled for arenas this coming Spring.
The band spent much of the past two years recording and releasing new music, while also creating livestream performance content and launching Bon Jovi radio for their fans. Bon Jovi's 2020 was one of the most critically acclaimed album releases of that year with USA Today calling it "BRILLIANT" and Associated Press highlighting the depth of lyrics within the songs that "chronicle pain, loss, fear and death from the coronavirus, police killings and mass shootings."
Bon Jovi remains one of the most prolific and sought-after tour tickets in live music today, and getting back on tour was a top priority for the band. "We have all missed touring and we know that nothing can replace the energy of a live show for the fans or the band," said Jon Bon Jovi.
Face Coverings and COVID-19 Protocols

Face coverings are currently not required to attend this event. Guests who prefer to wear a mask are encouraged to continue to do so. Proof of vaccination/negative COVID test are not required to attend this event.

By purchasing tickets to events at Xcel Energy Center, unless prohibited by law, you agree to abide by the health and safety measures in effect at the time of the event, which may include, but not be limited to, wearing masks, providing proof of vaccination status.

No Bags Permitted

NO BAGS are permitted inside the arena to help reduce staff touchpoints and expedite entry times for guests. This includes clutches, clear bags, purses, backpacks, fanny packs, etc. Medical and diaper bags are permitted at Gate 1 and are subject to x-ray screening. Small wallet in pocket or on lanyard permitted.

Floor Tickets

Guests with floor tickets must enter at Gate 1 or Gate 3.

VIP Packages

The Bon Jovi tour is excited to be offering a variety of VIP packages for each show! These packages include the BEST tickets available and may also provide access to the official "Bed of Rosés" VIP Brunch Experience, an autographed take-home chair, a chance to win a signed Jon Bon Jovi guitar, a Bon Jovi wine accessory set, crowd-free shopping, priority entry, and a selection of other exclusive VIP merchandise and on-site benefits! For full VIP package details, please go to bonjovi.com.

Mobile Entry

Pro tip for faster mobile entry: Log on to your Ticketmaster account and add the mobile tickets to your Apple Wallet/Google Wallet app. This bypasses the need for Wi-Fi or cellular data at the gates.

Mobile tickets are like an airline boarding pass which can be accessed with a smartphone via the Ticketmaster app or mobile site in a bar code format and scanned at the gate for entry. Mobile tickets are protected by Ticketmaster's SafeTix™ technology. SafeTix™ continually generates a new and unique barcode that automatically refreshes every few seconds so the barcode cannot be stolen or copied, keeping your tickets safe and secure. Screen shots are not accepted for entry.

Concessions - Mobile Ordering and Digital Payment

Xcel Energy Center now has convenient and contactless in-arena mobile ordering for concessions using the NHL Mobile App, or visit the Guest Services desks in the arena for information about our menu offerings.

Credit card and mobile payment (Apple Pay, Google Pay) are accepted for concessions.

Concession availability may vary based on event.

Digital Payment Only

Only credit card and mobile payment (Apple Pay, Google Pay, etc.) are accepted for concessions, retail and parking transactions. Only credit card payment is accepted for box office transactions. Cash is not accepted.