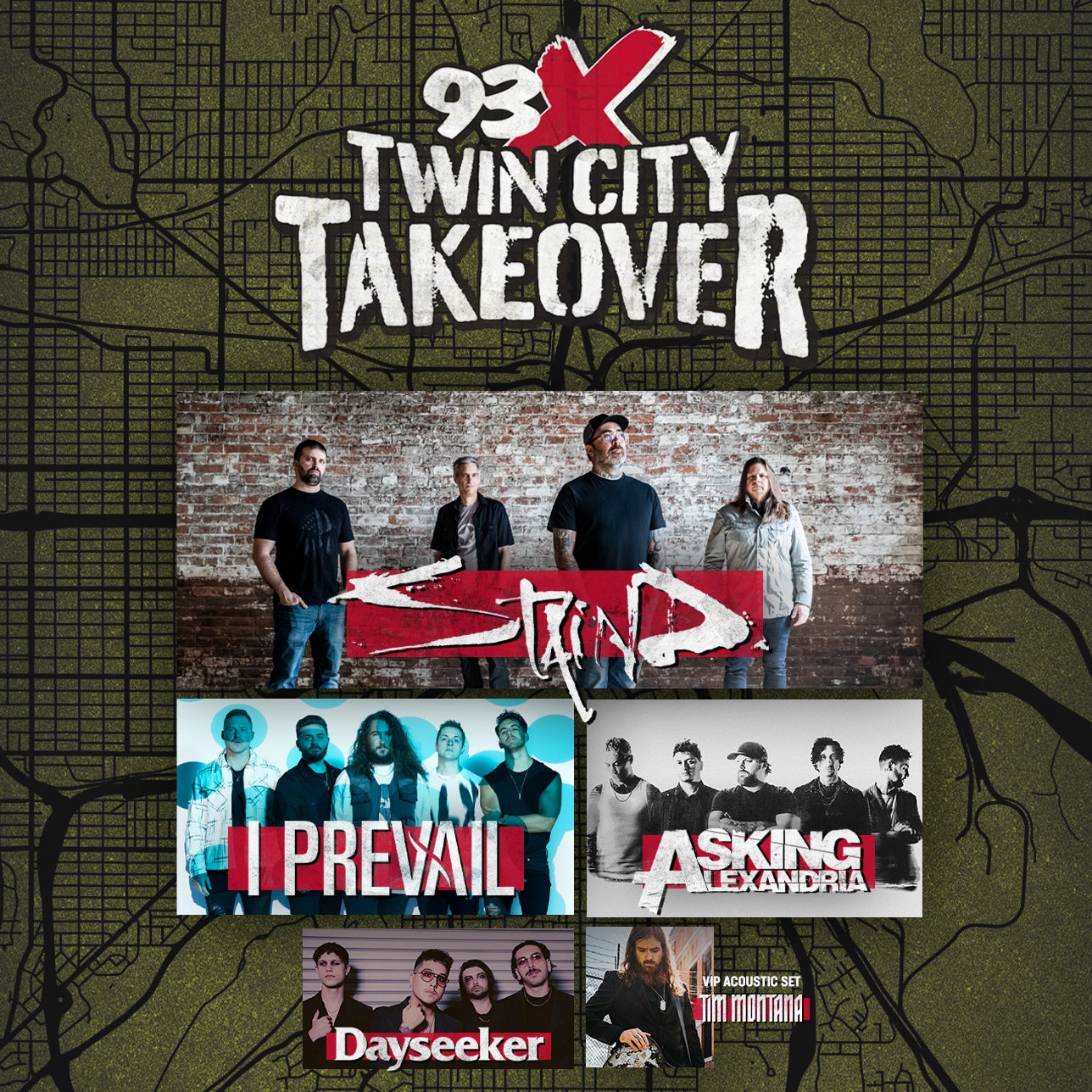 93X Twin City Takeover starring Staind
93X Twin City Takeover starring Staind
Event Info
93X (KXXR-FM) is thrilled to again take over the Twin Cities with Twin City Takeover 2024 at Xcel Energy Center on May 4, 2024. Multi-platinum recording artist Staind is headlining the show and will be joined on the main stage by GRAMMY-nominated I Prevail, Asking Alexandria, and Dayseeker.
"Like so many rock fans around the world, we're pumped that Staind is back, and it's awesome that the band is debuting their new songs for Minnesota at the Twin City Takeover," said 93X Program Director Derek Madden. "We've been hoping to get I Prevail to join us for a 93X show for years, so to be able to add them to this show, along with great acts like Asking Alexandria, Dayseeker, and Tim Montana, is a real thrill. We can't wait to see you at Xcel Energy Center in May."
Fans can purchase a VIP ticket, which allows early entry into an exclusive preshow party, a signing with Staind and acoustic performances from Tim Montana and Asking Alexandria. The VIP ticket also includes the best seats in the house, complimentary finger foods, full cash bar at the preshow party, and a commemorative VIP laminate.
Bag Policy

For enhanced safety and speed of entry, we encourage guests not to bring bags of any kind. Bags, purses and backpacks are not allowed. Clutch, wristlet and wallets sized 4" x 6" x 1.5" or smaller are allowed and subject to inspection. Medical bags and diaper bags are allowed, however, they are required to pass through x-ray screening prior to entry. Guests with medical and diaper bags must enter the arena at Gate 1. Please allow extra time for entry.

Mobile Entry

Pro tip for faster mobile entry: Add your tickets to your phone's "wallet" and have a fully charged battery. This bypasses the need for Wi-Fi or cellular data at the gates.

Mobile tickets are like an airline boarding pass which can be accessed with a smartphone via the Ticketmaster app or mobile site in a bar code format and scanned at the gate for entry. Mobile tickets are protected by Ticketmaster's SafeTix™ technology. SafeTix™ continually generates a new and unique barcode that automatically refreshes every few seconds so the barcode cannot be stolen or copied, keeping your tickets safe and secure. Screen shots are not accepted for entry.

Cashless Payment Only

Only credit card and mobile payment (Apple Pay, Google Pay, etc.) are accepted for concessions, retail, parking and box office transactions. Cash is not accepted.