Jun 23, 2016
Xcel Energy Center Diverts Over 200 Tons of Material From Landfill in Seat Replacement Project
View All News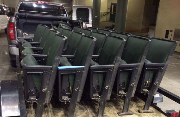 Over the past year, nearly all of the 18,000 seats inside Xcel Energy Center, home of the NHL's Minnesota Wild, were replaced with new and improved accommodations for fans. The project generated over 270 tons of leftover material. As a result of creativity and innovative sustainability partnerships, 74 percent of the seat materials (over 200 tons) were diverted from landfill.

Sustainability is a top priority at Xcel Energy Center, so with that in mind, venue officials sought to repurpose and recycle as many of the old seats and material as possible.

Last summer, Minnesota Wild season ticket holders, staff and the general public were given the opportunity to take home a piece of the arena's history by purchasing replaced spectator seats, with proceeds benefiting the Minnesota Wild Foundation. Seats were also donated to ice arenas throughout Minnesota that were in need of additional or improved seating. In all, over 2,800 seats were sold or otherwise reused.

With no readily available recycling solution for the nearly 20 tons of seating and stanchions that remained, Xcel Energy Center enlisted the assistance of Atomic Recycling, its long-time partner in construction waste recycling. Because the seats were a unique item, Atomic partnered with Second Chance Recycling, a local nonprofit that recycles challenging items and hires people with employment barriers to help meet community workforce needs. Second Chance was able to break down the seat bottoms into foam and plastic which could then be recycled. The metal portion of the seats was sold as scrap, which helped to offset the additional labor costs to disassemble the seats.

Xcel Energy Center is committed to sustainable operations and the organization continually seeks opportunities that reduce the environmental impact of its operations. Xcel Energy Center is the only NHL arena in the United States to be LEED Certified for Existing Buildings and the first arena in the world to receive Green Globes and APEX/ASTM certifications. For more, visit www.xcelenergycenter.com/sustainability.