Aug 20, 2015
Employees Participate in Adopt-A-River
View All News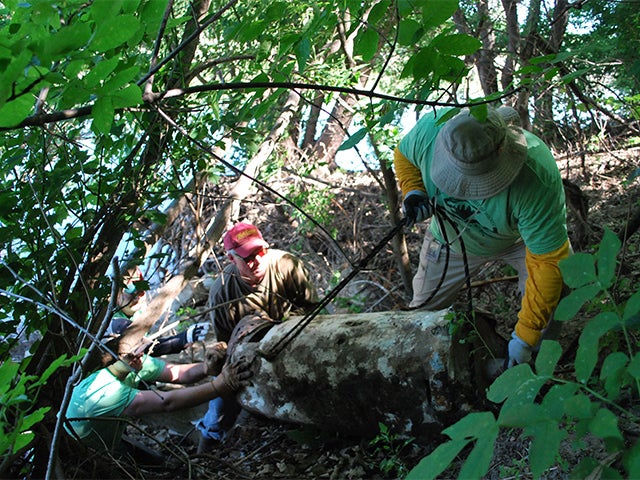 SAINT PAUL, MN - On July 21, 2015, employees from the Minnesota Wild, Xcel Energy Center, Saint Paul RiverCentre, MHC Culinary Group, Levy Catering and Visit Saint Paul enrolled in the Minnesota Department of Natural Resources' Adopt-A-River program. Over 40 employees came together to clean up a half-mile stretch of the Mississippi River banks in Lilydale, MN.
Over 2,100 pounds of material was collected in a two hour time period, including the removal of heavy items that had likely been sitting in the area for decades. Old tires, refrigerators, a hot water heater, metal drums, metal rebar and bags of trash left behind by river users were collected and sorted for proper disposal.
The Adopt-A-River program aligned perfectly with the goals the organization set at the beginning of the year to help protect and conserve water, both inside the facilities and out in the community. Enrollment in this program also provided a fun opportunity for employees to meaningfully connect to the organization's sustainability goals and work together towards creating a Greater State of Hockey.
"We've got to take care of our beautiful lakes and rivers," said Kate Setley, Director of Event Management and Marketing at Saint Paul RiverCentre and Xcel Energy Center. "Water is such a part of Minnesota. We love the community that supports the Minnesota Wild and all of our venues, so today we are picking up trash, making things cleaner and taking care of our environment."
At the conclusion of the river cleanup, awards were distributed to staff members for the best "treasure" found, the most "die hard" volunteer and the best river cleanup attire.
For more photos of the Adopt-A-River efforts, visit the photo gallery under the Community and Water sections. For more information about the Adopt-A-River program, visit the Minnesota Department of Natural Resources website.