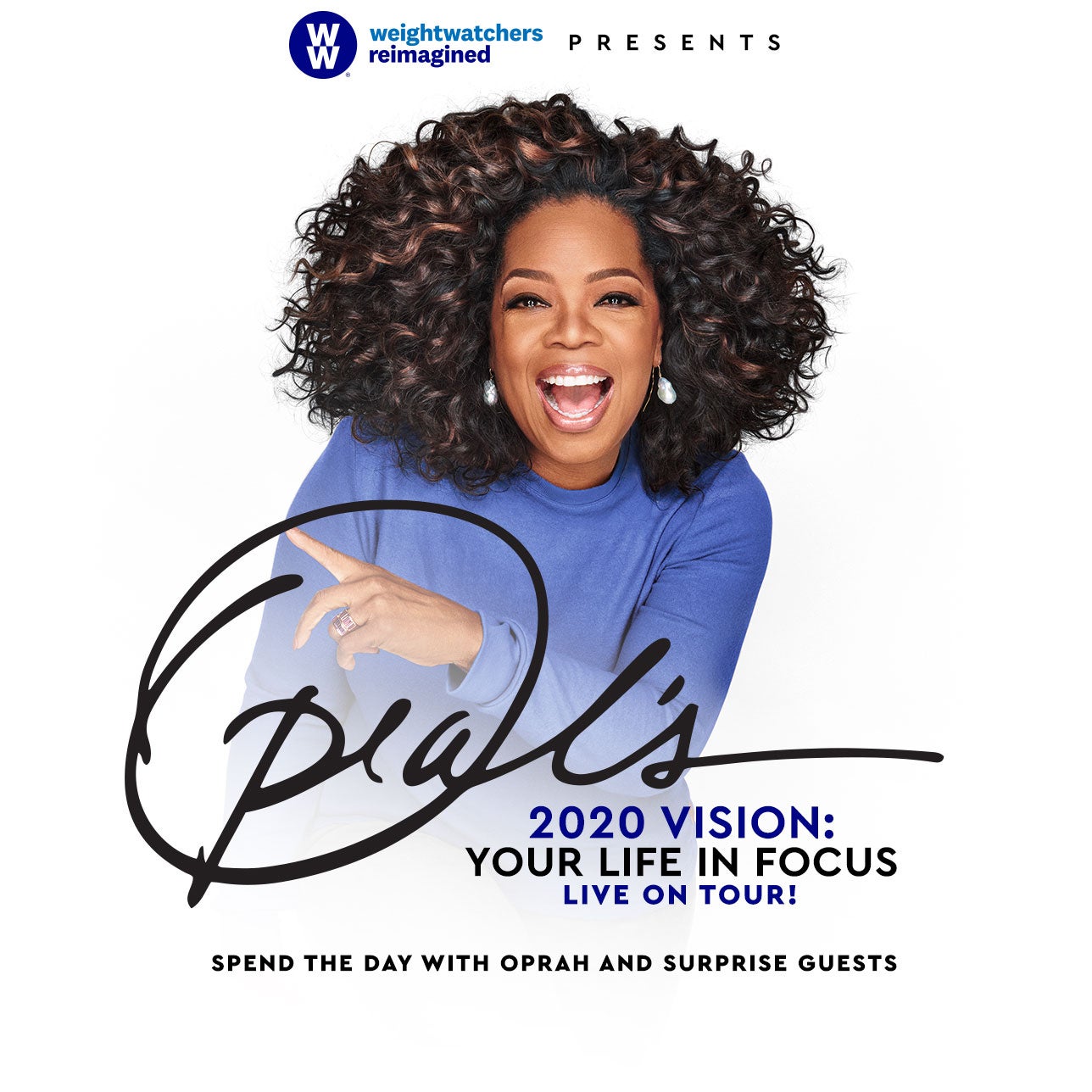 WW Presents Oprah's 2020 Vision: Your Life in Focus
WW Presents Oprah's 2020 Vision: Your Life in Focus
Event Info
Global media leader Oprah Winfrey has announced her first national arena tour in five years, Oprah's 2020 Vision: Your Life in Focus. Presented by WW - Weight Watchers Reimagined - Oprah will bring a full day wellness event to nine U.S. cities including Saint Paul. Joined by high profile guests, Oprah will help motivate audiences across the country to make 2020 the year of renewal and celebrate all we are meant to be.
"What I know for sure is we can all come together to support a stronger, healthier, more abundant life - focused on what makes us feel energized, connected and empowered," said Oprah Winfrey. "As I travel the country, my hope for this experience is to motivate others to let 2020 be the year of transformation and triumph - beginning first and foremost with what makes us well. This is the year to move forward, let's make it happen in 2020!"
On each stop, attendees will spend the day with Oprah as she shares the personal ups and downs of her wellness journey and guides them to develop their own 2020 action plan through motivating conversations, the latest in wellness research and insightful interactive workbook exercises. Every city will feature a different lineup of high-profile guests, electrifying experiences and invigorating talks as well as highlight inspiring individuals who took charge of their lives and created lasting change. Each tour stop will also feature a signature Oprah interview as she sits down for an intimate one-on-one conversation with some of the biggest celebrities, headline-makers and game-changers.
Bag Policy

In an effort to provide a safe environment, Xcel Energy Center limits the size and type of bags allowed inside the arena. Fans are encouraged to leave non-essential items at home. Fans can only carry into the arena the following style and size bag:

Clear tote (plastic, vinyl or PVC) that does not exceed 12" x 6" x 12" or a plastic storage bag that is maximum one gallon, resealable and clear.
Small bags, such as a small clutch purse, that are approximately the size of a hand with or without a handle or strap will be allowed but must not exceed 5" x 8".
Guests with bags not meeting guidelines will be asked to return them to a vehicle or utilize the onsite bag check. Bag check is available for a fee through binbox and is located at Gates 1 and 3. Xcel Energy Center is not responsible for items left at any of the gates.

Mobile Entry

Pro tip for faster mobile entry: Add your tickets to your phone's "wallet" and have a fully charged battery.

Mobile tickets are like an airline boarding pass which can be accessed with a smartphone via the Ticketmaster app or mobile site in a QR code format and scanned at the gate for entry.

Once you are within 48 hours of your event, log on to your Ticketmaster account and add the mobile tickets to your Apple Wallet/Google Wallet app. Once you have added to the app, your QR code will be accessible for entry. This bypasses the need for Wi-Fi or cellular data at the gates.

Guests are reminded to fully charge their smartphones prior to arriving at the venue in order to access mobile tickets. Click here for more information.