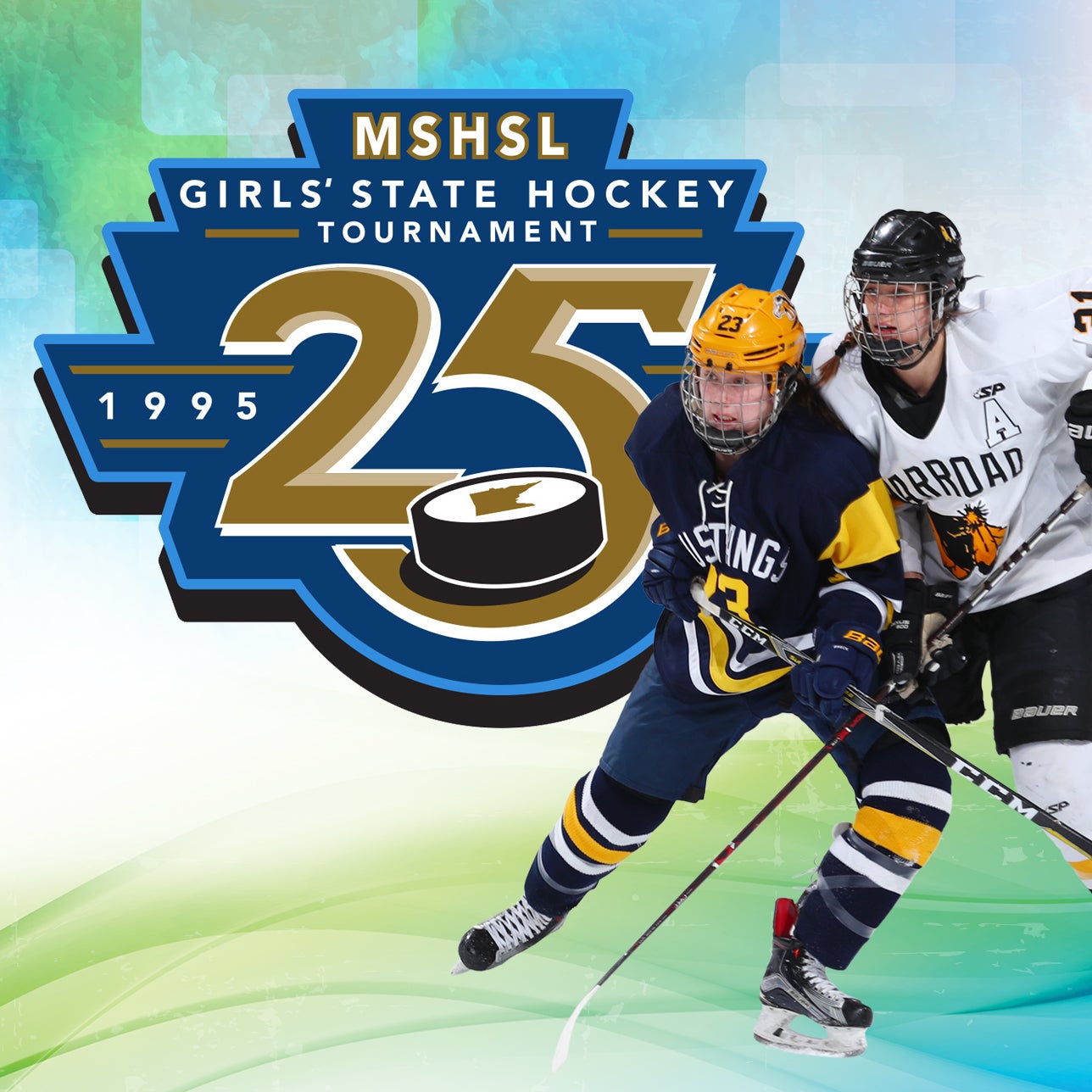 MSHSL Girls' State Hockey Tournament
MSHSL Girls' State Hockey Tournament
Event Info
Tickets for the 2019 MSHSL Girls' State Hockey Tournament are available for advance purchase. Advance tickets are available for purchase online via Ticketmaster and in person at the Xcel Energy Center Box Office during regular box office hours. There are no additional Ticketmaster fees for purchasing in advance online.
For both Class A and Class AA, single session tickets are valid for the two games to be played during that session.
Single session tickets at Xcel Energy Center are $19 for adults and $12 for students (K-12).
Single session tickets for consolation rounds at TRIA Rink are $14 for adults and $9 for students (K-12).
MSHSL Tournament Bag Policy

Xcel Energy Center encourages you to not bring a bag to the event or to limit the size of the bag that you bring. Small purses, diaper bags and cinch style/drawstring backpacks are permitted with inspection.

Oversized bags, including regular school style backpacks, are prohibited.

For more information, please contact the Guest Experience Team at [email protected] or 651-726-8200.

MSHSL Sign Policy

Hand held signs, which do not obstruct the view of others, will be permitted provided they are in good taste. Signs not in good taste will be removed.

Consolation Games - TRIA Rink

New this year, the MSHSL Girls' Hockey consolation bracket will be played at TRIA Rink in downtown Saint Paul. Tickets will be available for purchase at TRIA Rink the day of the game.

Thursday, Feb. 21 – Class A consolation semi-finals (session starts at 10 a.m.)

Friday, Feb. 22 – Class AA consolation semi-finals (session starts at 10 a.m.)

Saturday, Feb. 23 – Class A and Class AA consolation bracket - Third place and Championship games (session starts at 9:30 a.m.)

Mobile Entry

Pro tip for faster mobile entry: Add your tickets to your phone's "wallet" and have a fully charged battery.

Mobile tickets are accessed with a smartphone via the Ticketmaster app or mobile site in a QR code format and scanned at the gate for entry.

Once you are within 48 hours of your event, log on to your Ticketmaster account and add the mobile tickets to your Apple Wallet/Google Wallet app. Once you have added to the app, your QR code will be accessible for entry. This bypasses the need for Wi-Fi or cellular data at the gates.

Guests are reminded to fully charge their smartphones prior to arriving at the venue in order to access mobile tickets. More mobile entry information.