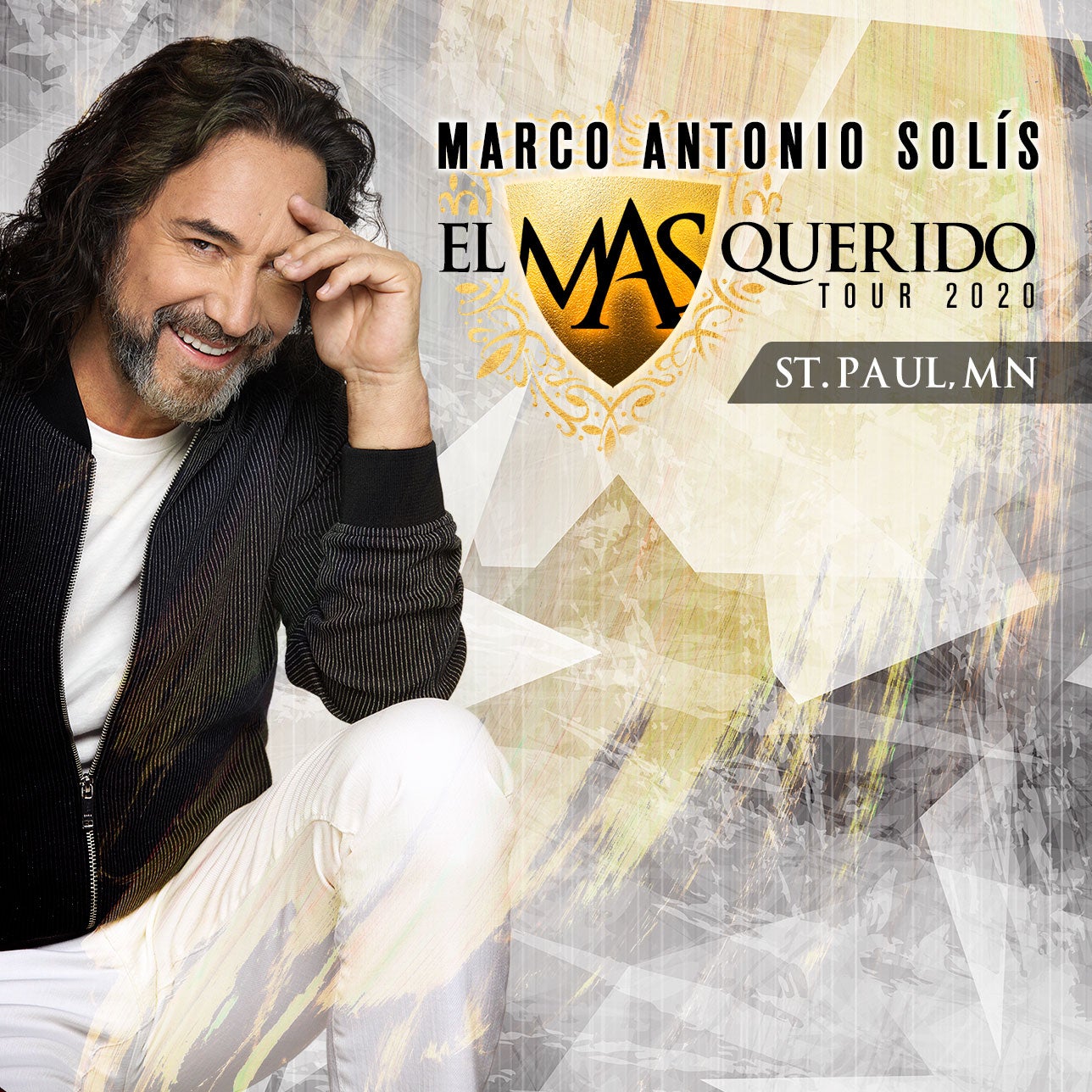 Event Info
Due to logistics, the concert scheduled for March 29, 2019 in St. Paul, Minnesota, has been rescheduled for April 24, 2020. Tickets purchased for the initial show will be honored for the new date. For those unable to attend the new date, refunds are available at point of purchase.

Romantic idol Marco Antonio Solís, one of the most celebrated, legendary and beloved figures in Latin music due to his authenticity, modesty and his more than four decades of uninterrupted career, returns to the United States with a new chapter in his successful and spectacular El Mas Querido Tour.
Marco Antonio Solís is also celebrating 42 years of an incomparable career with the release of his new album, MÁS De Mis Recuerdos, featuring a collection of some his most famous tracks reinvented for new and younger audiences. The first single, "Yo Te Necesito," became an instant hit in the United States just days after being released. Likewise, the album is rapidly climbing the charts proving that the signer's romanticism remains as resonant as ever. His poetic lyrics captivate audiences inviting them to fall in love again wholeheartedly.
Bag Policy

In an effort to provide a safe environment, Xcel Energy Center limits the size and type of bags allowed inside the arena. Fans are encouraged to leave non-essential items at home. Fans can only carry into the arena the following style and size bag:

Clear tote (plastic, vinyl or PVC) that does not exceed 12" x 6" x 12" or a plastic storage bag that is maximum one gallon, resealable and clear.
Small bags, such as a small clutch purse, that are approximately the size of a hand with or without a handle or strap will be allowed but must not exceed 5" x 8".
Guests with bags not meeting guidelines will be asked to return them to a vehicle or utilize the onsite bag check. Bag check is available for a fee through binbox and is located at Gates 1 and 3. Xcel Energy Center is not responsible for items left at any of the gates.

Mobile Entry

Pro tip for faster mobile entry: Add your tickets to your phone's "wallet" and have a fully charged battery.

Mobile tickets are accessed with a smartphone via the Ticketmaster app or mobile site in a QR code format and scanned at the gate for entry.

Once you are within 48 hours of your event, log on to your Ticketmaster account and add the mobile tickets to your Apple Wallet/Google Wallet app. Once you have added to the app, your QR code will be accessible for entry. This bypasses the need for Wi-Fi or cellular data at the gates.

Guests are reminded to fully charge their smartphones prior to arriving at the venue in order to access mobile tickets. Click here for more information.