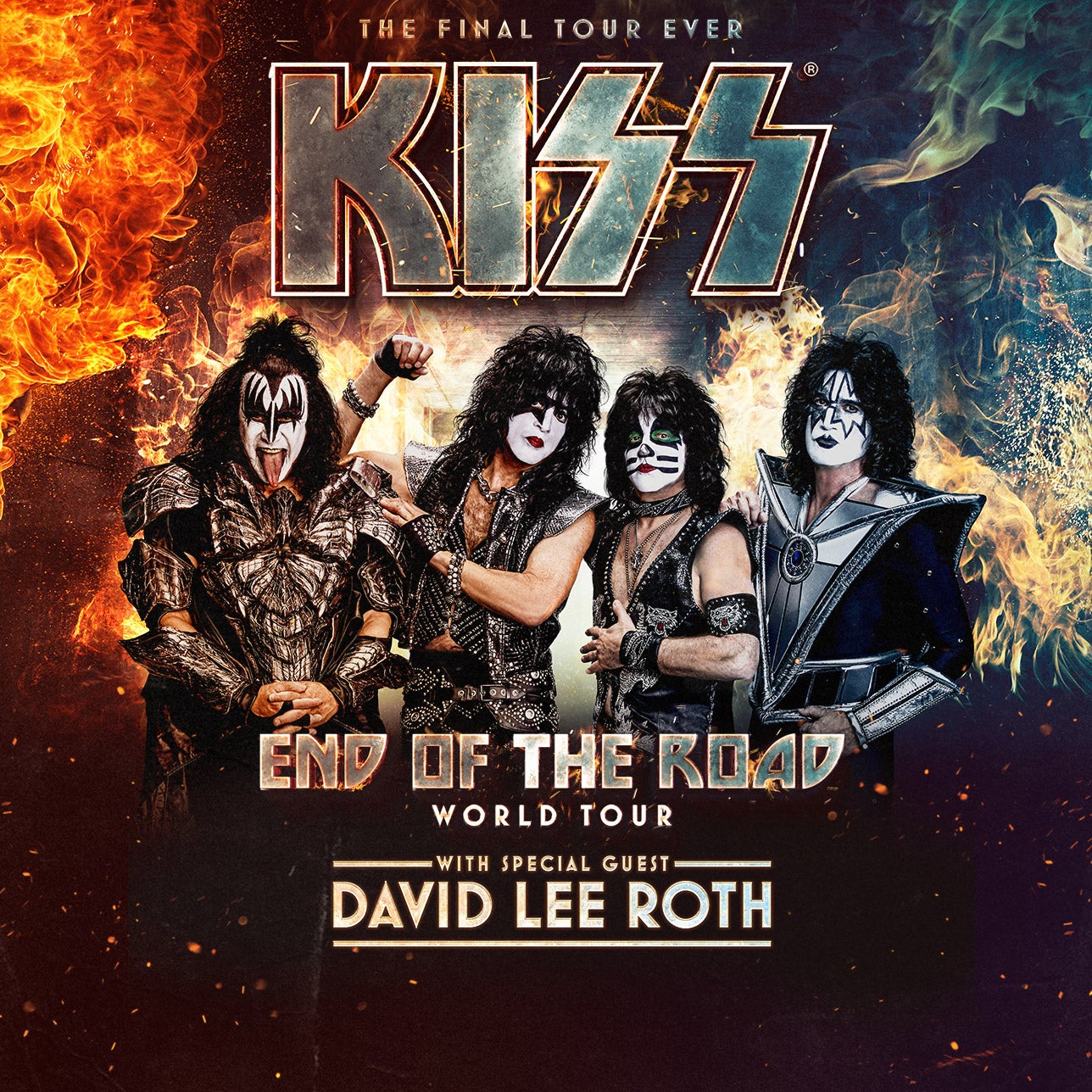 Event Info
Rock n roll legends KISS have announced the last legs of their final tour, the END OF THE ROAD TOUR. Fellow rock icon David Lee Roth has been added as a special guest. David Lee Roth will bring his exciting stage show featuring a twin guitar big rock sound and a set list of classic hits and future energy.
Known for their trademark larger-than-life blistering performances, KISS has proven for decades why they are hands down the most iconic live show in rock n roll. The Rock & Roll Hall of Famers who have sold more than 100 million albums worldwide have said this tour is devoted to the millions of KISS Army fans.
"All that we have built and all that we have conquered over the past four decades could never have happened without the millions of people worldwide who've filled clubs, arenas and stadiums over those years. This will be the ultimate celebration for those who've seen us and a last chance for those who haven't. KISS Army, we're saying goodbye on our final tour with our biggest show yet and we'll go out the same way we came in...Unapologetic and Unstoppable," said KISS.
Happy Hour and Dining Options

Happy Hour
The Michelob Golden Light Taphouse, located at Gate 4 of the arena, will open at 6 p.m. and will offer happy hour pricing on select beer, wine and rail drinks from 6 - 7 p.m. plus a full-service bar and appetizer menu.

Join us for dinner before the show at Jack Daniel's Old No. 7 Club. This private space on the RBC Wealth Management Club Level allows you to enter the arena, relax and enjoy dinner and drinks before heading to your seats. Pre-purchase dinner now.

The Reserve is an upscale lounge on the Bremer Bank Suite Level that boasts an eclectic, chef-driven menu and an array of cocktail options. To make a reservation, call 651-726-8400. The Reserve opens at 6:30 p.m.

Herbie's On The Park is your new favorite place in downtown Saint Paul. Steps from Xcel Energy Center, Herbie's is the perfect spot for cocktails before and after the show.

Bag Policy

In an effort to provide a safe environment, Xcel Energy Center limits the size and type of bags allowed inside the arena. Fans are encouraged to leave non-essential items at home. Fans can only carry into the arena the following style and size bag:

Clear tote (plastic, vinyl or PVC) that does not exceed 12" x 6" x 12" or a plastic storage bag that is maximum one gallon, resealable and clear.
Small bags, such as a small clutch purse, that are approximately the size of a hand with or without a handle or strap will be allowed but must not exceed 5" x 8".
Guests with bags not meeting guidelines will be asked to return them to a vehicle or utilize the onsite bag check. Bag check is available for a fee through binbox and is located at Gates 1 and 3. Xcel Energy Center is not responsible for items left at any of the gates.

Mobile Entry

Pro tip for faster mobile entry: Add your tickets to your phone's "wallet" and have a fully charged battery.

Mobile tickets are like an airline boarding pass which can be accessed with a smartphone via the Ticketmaster app or mobile site in a QR code format and scanned at the gate for entry.

Once you are within 48 hours of your event, log on to your Ticketmaster account and add the mobile tickets to your Apple Wallet/Google Wallet app. Once you have added to the app, your QR code will be accessible for entry. This bypasses the need for Wi-Fi or cellular data at the gates.

Guests are reminded to fully charge their smartphones prior to arriving at the venue in order to access mobile tickets. Click here for more information.