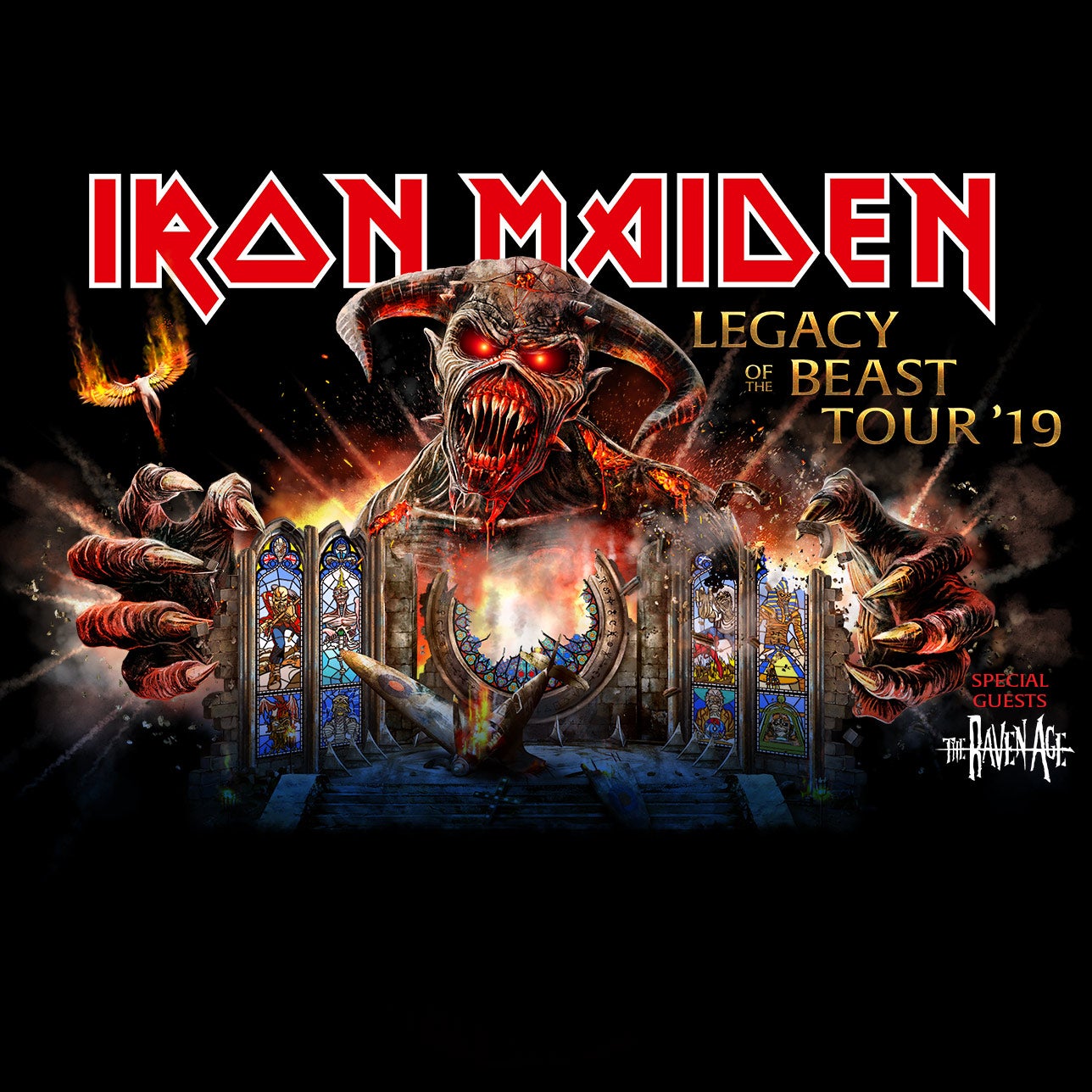 Event Info
IRON MAIDEN will bring the Legacy Of The Beast Tour to North America in 2019 for an extensive series of arena and amphitheater shows. Support on the 2019 tour comes from The Raven Age.

Maiden vocalist Bruce Dickinson comments, "We're excited to return to North America and share the Legacy Of The Beast Tour with all our friends there! We're immensely proud of this show and we've had great reactions from the many fans who came to see us in Europe earlier this year. The production is based on our mobile game THE LEGACY OF THE BEAST which basically takes various incarnations of Eddie into many different Maiden Worlds. This inspired us to put together a stage show to take our fans through different Worlds and experiences set to appropriate songs. It is not that easy designing different Worlds on stage and we put a huge amount of work into this to make it work and the end result we feel is our most spectacular and certainly the most complex show to date. We've got all kinds of crazy things going on, including a replica Spitfire plane dominating the stage during 'Aces High,' tons of pyro, a giant Icarus, muskets, claymores and some truly marvelous flame-throwers which I have a hell of a lot of fun with, as you will see! And of course we have Eddie, as you've never seen him before, and absolutely loads of other surprises. I've had the time of my life playing with all these magnificent props on stage, it's been fantastic, we can't wait to bring this show to you!"

Steve Harris, bassist and founder member adds, "We gave a lot of thought to the set list for this Tour as the songs needed to follow the narrative of the changing worlds of the stage show. We feel we ended up with a very strong and well balanced set mixing songs we haven't played in many years like 'Flight Of Icarus,' 'Sign Of The Cross' and 'The Clansman' with songs we know the fans want to hear like 'The Trooper,' '2 Minutes To Midnight,' 'The Number Of The Beast,' 'Fear Of The Dark,' 'Run To The Hills,' 'Hallowed Be Thy Name' and others, reflecting the journey through the different themes of the show. The whole band is really enjoying this tour and we are really looking forward to seeing everybody again!"

The Legacy Of The Beast Tour production and set list is inspired by Maiden's free to play mobile game of the same name which is available on iOS and Android platforms at ironmaiden.com/play.
General Admission (GA Floor) Ticket Holders

Guests with General Admission (GA Floor) tickets must enter the arena at Gate 1 via the lines designated for general admission entry. Gate 1 is the southeast entrance on W. Kellogg Boulevard.

GA tickets will be validated at Gate 1 beginning at 6:30 p.m. and ticket holders will receive a wristband to access the floor.

Bag Policy

To provide a safer environment and significantly expedite guest entry into the arena, Xcel Energy Center encourages you to not bring a bag to the event or to limit the size of the bag that you bring. Should you choose to bring a bag, we encourage using a clear tote (plastic, vinyl or PVC) that does not exceed 12" x 6" x 12" or a maximum one gallon size plastic storage bag. Small bags or clutch purses no larger than 5" x 8" are permitted. Oversized bags and backpacks are prohibited.

Mobile Entry

Pro tip for faster mobile entry: Add your tickets to your phone's "wallet" and have a fully charged battery.

Mobile tickets are accessed with a smartphone via the Ticketmaster app or mobile site in a QR code format and scanned at the gate for entry.

Once you are within 48 hours of your event, log on to your Ticketmaster account and add the mobile tickets to your Apple Wallet/Google Wallet app. Once you have added to the app, your QR code will be accessible for entry. This bypasses the need for Wi-Fi or cellular data at the gates.

Guests are reminded to fully charge their smartphones prior to arriving at the venue in order to access mobile tickets. Click here for more information.