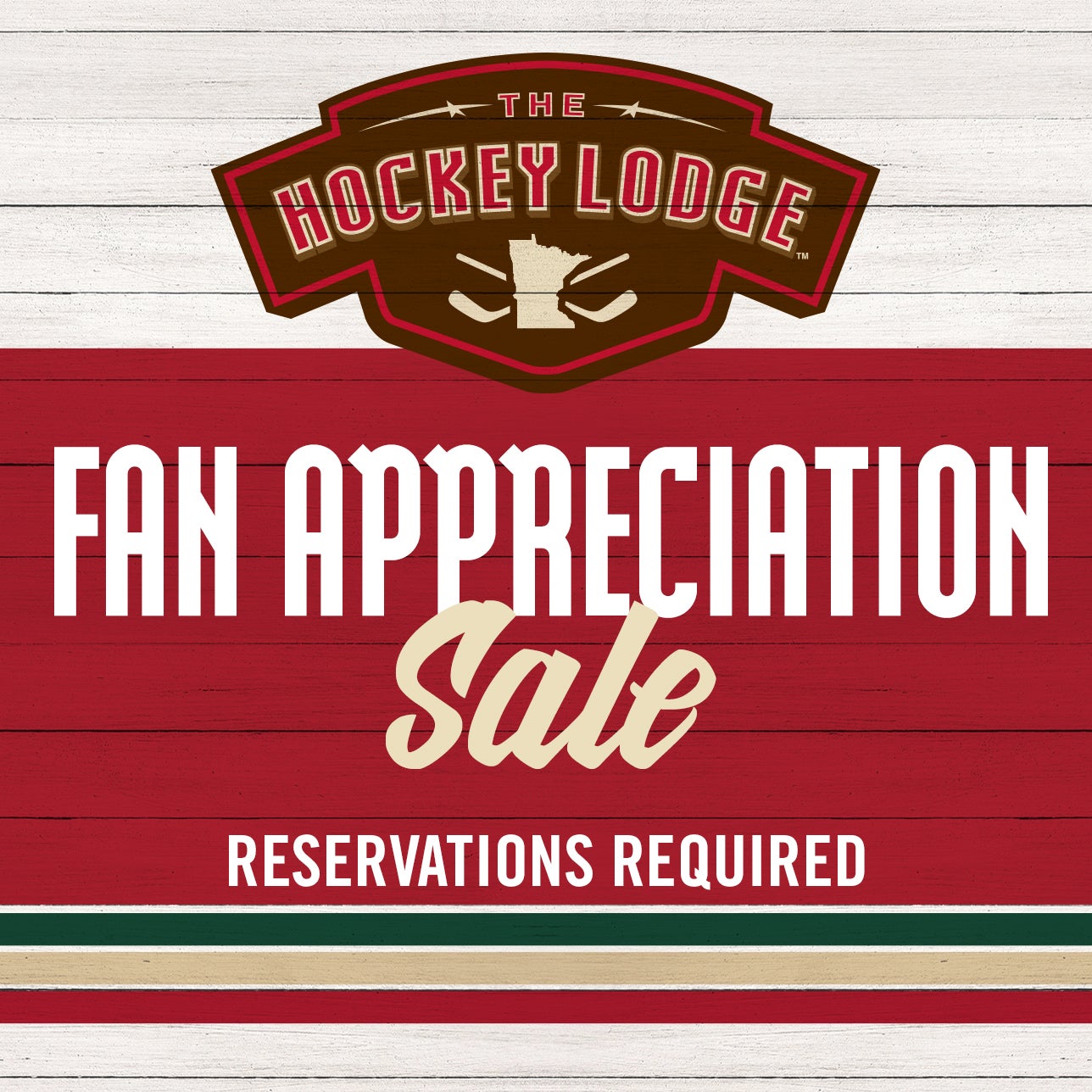 Hockey Lodge Fan Appreciation Sale
Hockey Lodge Fan Appreciation Sale
Event Info
The Hockey Lodge will host a Fan Appreciation sale beginning Wednesday, Oct. 28 through Sunday, Nov. 1 on the Xcel Energy Center floor.
In accordance with Minnesota Department of Health (MDH) guidelines, fans are required to make a timed reservation to attend the Fan Appreciation sale. To make a reservation and for more information, visit wild.com/sale. Reservations should be made for each member of the shopping group (maximum of six per group). Space is limited. The event is free to the public.
Retail hours for the Fan Appreciation sale are:
Wednesday, Oct. 28: 11 a.m. – 8 p.m.
Thursday, Oct. 29: 11 a.m. – 8 p.m.
Friday, Oct. 30: 11 a.m. – 8 p.m.
Saturday, Oct. 31: noon – 6 p.m.
Sunday, Nov. 1: noon – 6 p.m.
Reservations

In order to best follow our COVID protocol and to keep all shoppers and staff safe, we ask that each fan RSVP for every person in their party who plan to enter Xcel Energy Center to shop. For example, if two people are attending the sale together, please RSVP for two when prompted.

Wednesday, October 28: RSVP
Thursday, October 29: RSVP
Friday, October 30: RSVP
Saturday, October 31: RSVP
Sunday, November 1: RSVP

There is no cost to attend the sale, however, registration is required. Registrations will be managed via Ticketmaster and, just like a Wild ticket when attending a game, we ask you show your digital tickets on your mobile device when entering the arena.

Health and Safety Regulations

Retail operations will maintain the highest standards of compliance with current health and safety regulations, such as:

Face coverings are required for fans, vendors and employees.

Cashless transactions/touchless payment options are highly encouraged to minimize contact.

Acrylic shields installed at check-out locations.

Distancing locations marked for fans while waiting in line for entry and check out.

Hand sanitizer available at entry and throughout the arena.

All contact surfaces will be cleaned in between fan transactions.

Use of designated entrances and exits.

One way directional signage and fan flow.

Popular retail items will be spaced strategically away from each other to avoid congregating.

Parking

Parking will be available for $5 in the RiverCentre Parking Ramp located off of Kellogg Boulevard. Fans attending must enter Xcel Energy Center at Gate 1.