Girl Scout Ticket Offers
Visit this site often for special offers, discounted tickets and more!
Disney on Ice presents Passport to Adventure
Event Dates/Times: Friday, Dec. 2, 2016 at 7pm and Saturday, Dec. 3, 2016 at 7pm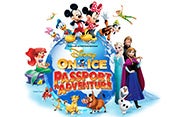 BUY TICKETS (1-8 tickets) PROMO CODE: scouts
Please call (651) 312-3486 to purchase 9+ tickets.
Friday Night Post Show Event: Please remain in your seats following the show and hear from skaters as they share their behind the scenes insights.
Please remember to print your tickets after confirming an on-line reservation. Please pick up your Girl Scout patch(es) at the Guest Services Desk behind Section 105 when you arrive to the show.
Tickets are based on availability. Events with special offers and/or discounts available are listed. If you are interested in purchasing tickets to other events at Xcel Energy Center, visit the event calendar. Thank you.