Girl Scout Ticket Offers
Visit this site often for special offers, discounted tickets and more!
World's Toughest Rodeo
Event Date/Time: Friday, February 3, 2017 at 7:30pm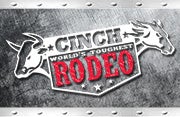 Offer expires January 30, 2017
BUY TICKETS (1-8 tickets) PROMO CODE: SCOUTS
Please call (651) 312-3486 to purchase 9+ tickets.
Event Details: Hang on to your hats for a special Girl Scout Night at the World's Toughest Rodeo! Scout offer includes a ticket plus each Scout will receive a patch (please pick up at the Guest Services Desk located behind Section 105 when you arrive to the rodeo). Come early and scouts may head down to the dirt and participate in "Cowgirl Camp" at 5:30pm.
New this year, the World's Toughest Rodeo will feature Bull Jumping, a sport directly linked to South Western French tradition called "Course Landaise," will include more than 15 jumps and maneuvers over a four-year-old charging Mexican fighting bull. Don't miss the action, purchase your tickets today!
Tickets are based on availability. Events with special offers and/or discounts available are listed. If you are interested in purchasing tickets to other events at Xcel Energy Center, visit the event calendar. Thank you.