Girl Scout Ticket Offers
Visit this site often for special offers, discounted tickets and more!
Disney on Ice presents Dare to Dream
Dates: Friday, December 11, 2015 at 7pm and Saturday, December 12, 2015 at 7pm
Offer expires December 6, 2015 at 10pm.
BUY TICKETS (1-8 tickets) Promo Code: girlscouts
Please remember to print your tickets when confirming your on-line reservation. You will also need to pick up your patches the night of the show at the Guest Services Desk, located behind Section 105.
Please call (651) 312-3486 to purchase 9+ tickets.
Friday, Dec. 11, 2015 Only - A special Post Show event will take place immediately following the performance and run for approximately 20 minutes, meaning your event will conclude around 9:30pm. Simply remain in your seats at the conclusion of the performance and the emcee will provide direction for you. You do not need to bring your skates to the event. This is not a personal meet and greet opportunity.
Event Details: Nothing can stop a princess from a celebration of royal proportions when Disney On Ice presents Dare to Dream Presented by Stonyfield YoKids Organic Yogurt. Join your hosts Mickey Mouse and Minnie Mouse for a princess-packed adventure. Laugh along with Disney's hair-raising escapade, Tangled, as Rapunzel, Flynn and Maximus embark on an uproarious journey that takes adventure to new lengths! Travel to the enchanted forest with Snow White and the Seven Dwarfs as she escapes from the Evil Queen in her search for her one true love. Dreams become reality as Cinderella meets her Prince Charming, with a glass slipper fit for an unforgettable fantasy come true. Boogie to the beat of the bayou with Princess Tiana and Prince Naveen from Disney's The Princess and the Frog, in a magical, musical journey that begins with a fateful kiss. The whole family will delight in the beauty, sparkle and spirit of the ultimate Disney Princess event of a lifetime!
World's Toughest Rodeo
Event Date/Time: Saturday, February 6, 2016 at 7:30pm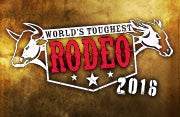 Offer coming soon!
Event Details: Hang on to your cowgirl hat for a special Girl Scout Night at the World's Toughest Rodeo. Scout offer includes a ticket and access to "Cowgirl Camp" prior to the rodeo (5:30-6:30pm). Scouts also receive a patch!
Tickets are based on availability. Events with special offers and/or discounts available are listed. If you are interested in purchasing tickets to other events at Xcel Energy Center, visit the event calendar. Thank you.