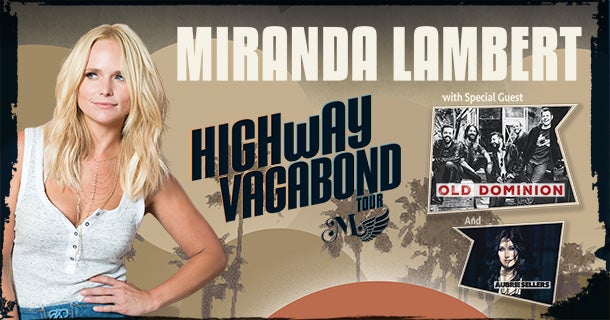 March

17

, 2017

7:00 PM

Starting at $39.75

6:00 PM

Old Dominion, Aubrie Sellers
Miranda Lambert
Hot off the heels of the announcement that "Vice" from her new album The Weight of These Wings received two GRAMMY nominations (Best Country Solo Performance and Best Country Song), Miranda Lambert brings her Highway Vagabond Tour to Xcel Energy Center on March 17 at 7 p.m. with special guests Old Dominion and Aubrie Sellers.

Ticket Reminder: If you choose the PDF delivery for tickets to our events, you MUST print the tickets. They will not scan from your phone. Click here for more information.
Join us for happy, happier and happiest hour before the show!

Happy Hour
Xcel Energy Center will host a happy hour for fans at Gate 1 from 5 - 7 p.m. The event is free and open to the public and will feature happy hour pricing.

Happier Hour
The Mich Golden Light Fan Zone, located at Gate 4 of the arena, will open at 5 p.m. and will offer happy hour pricing from 5 - 6:30 p.m. plus a full-service bar and dinner menu.

Happiest Hour
Join us for dinner before the show at Jack Daniel's Old No. 7 Club. This private space on the RBC Wealth Management Club Level allows you to enter the arena, relax and enjoy dinner and drinks before heading to your seats. Plus happy hour pricing from 5:30 - 6:30 p.m. with dinner purchase. Pre-purchase dinner now.