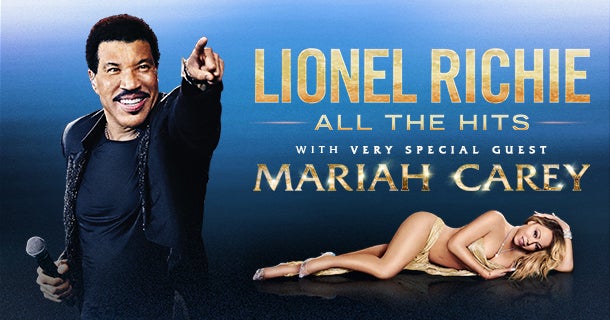 March

24

, 2017

7:00 PM

Starting at $39.95

6:00 PM

Mariah Carey
Lionel Richie
Multi-platinum-selling artists, multiple Grammy Award®-winners and music icons, Lionel Richie and very special guest Mariah Carey will tour together for the first time ever on the ALL THE HITS TOUR. An international superstar, Lionel Richie has a discography of albums and singles that are second to none and his music is part of the fabric of pop music. Mariah Carey is a music icon, a soul legend, a pop phenomenon, a breathtaking live artist and planet Earth's best-selling female artist of all time.

Ticket Reminder: If you choose the PDF delivery for tickets to our events, you MUST print the tickets. They will not scan from your phone. Click here for more information.

Join us for happy, happier and happiest hour before the show!

Happy Hour
Xcel Energy Center will host a happy hour for fans at Gate 1 from 5 - 7 p.m. The event is free and open to the public and will feature happy hour pricing.

Happier Hour
The Mich Golden Light Fan Zone, located at Gate 4 of the arena, will open at 5:30 p.m. and will offer happy hour pricing from 5:30 - 6:30 p.m. plus a full-service bar and dinner menu.

Happiest Hour
Join us at the Jack Daniel's Old No. 7 Club bar on the RBC Wealth Management Club Level. Happy hour pricing from 5:30 - 6:30 p.m.