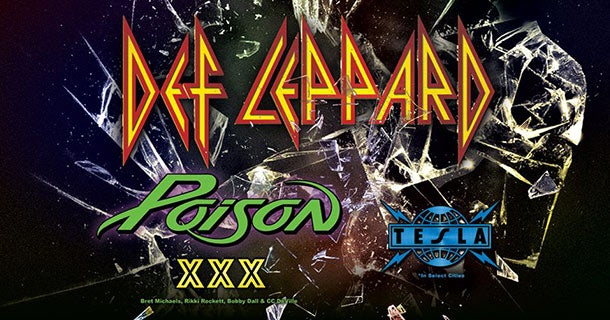 April

21

, 2017

7:00 PM

Starting at $29.50

6:00 PM

Poison, Tesla
Def Leppard
Def Leppard will return to the road this spring for a three month run across North America. Joining Def Leppard on select dates are Poison and Tesla.

With two prestigious Diamond Awards to their credit, Def Leppard - Joe Elliott, Phil Collen, Vivan Campbell, Rick "Sav" Savage and Rick Allen - continues to stand tall in the music industry and deliver some of the most iconic rock melodies and memorable anthems of all time. Most recently, their 2015 self-titled album featured singles "Dangerous" and "Let's Go" and hit #1 on the Billboard Top Rock Albums Chart.

The tour also marks the first time in over 5 years that Poison will tour with all original members. Members including Bret Michaels, CC DeVille, Bobby Dall and Rikki Rockett. Poison has sold over 40 million records and is set to perform some of its greatest hits including "Nothin' but a Good Time," "Every Rose Has Its Thorn," "Talk Dirty to Me," "Unskinny Bop" and "Something to Believe In."

Mobile Entry: Mobile tickets are like an airline boarding pass which can be accessed with a smartphone via the Ticketmaster app or mobile site in a QR code format and scanned at the gate for entry. Click here for more information.

Print-at-Home Tickets: If you chose the PDF delivery for tickets to this show, you MUST print the tickets. They will not scan from your phone. Click here for more information.

Join us for happy, happier and happiest hour before the show!

Happy Hour
Xcel Energy Center will host a happy hour for fans at Gate 1 from 5 - 7 p.m. The event is free and open to the public and will feature happy hour pricing.

Happier Hour
The Mich Golden Light Fan Zone, located at Gate 4 of the arena, will open at 5 p.m. and will offer happy hour pricing from 5 - 6 p.m. plus a full-service bar and dinner menu.

Happiest Hour
Join us for dinner before the show at Jack Daniel's Old No. 7 Club. This private space on the RBC Wealth Management Club Level allows you to enter the arena, relax and enjoy dinner and drinks before heading to your seats. Plus happy hour pricing from 5:30 - 6:30 p.m. with dinner purchase. Pre-purchase dinner now.