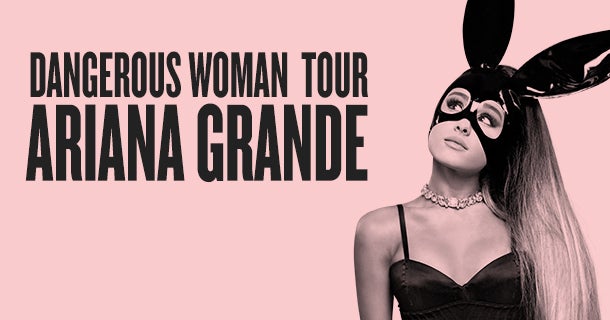 March

16

, 2017

7:30 PM

$29.95 / $49.95 / $69.95 / $89.95 / $129.95 / $159.95 / $199.95

6:30 PM

Little Mix, Victoria Monet
Ariana Grande
Multi-platinum selling and Grammy Award-nominated artist Ariana Grande has revealed details behind her biggest tour yet - THE DANGEROUS WOMAN TOUR. 2016 saw Ariana release her mega-anticipated third full-length album, "Dangerous Woman."

Ticket Reminder: If you choose the PDF delivery for tickets to our events, you MUST print the tickets. They will not scan from your phone. Click here for more information.

Join us for happy and happier hour before the show!

Happy Hour
Xcel Energy Center will host a happy hour for fans at Gate 1 from 5:30 - 7:30 p.m. The event is free and open to the public and will feature happy hour pricing.

Happier Hour
The Mich Golden Light Fan Zone, located at Gate 4 of the arena, will open at 6 p.m. and will offer happy hour pricing from 6 - 7 p.m. plus a full-service bar and dinner menu.