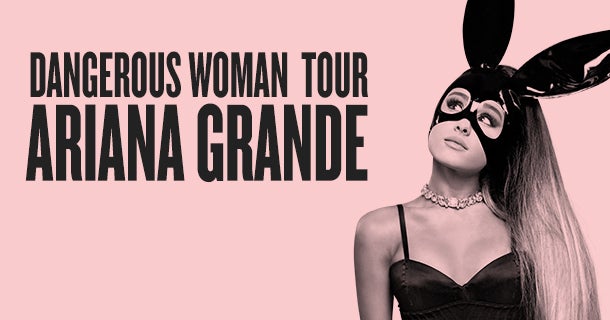 March

16

, 2017

7:30 PM

$29.95 / $49.95 / $69.95 / $89.95 / $129.95 / $159.95 / $199.95

6:30 PM

Little Mix, Victoria Monet
Ariana Grande
Multi-platinum selling and Grammy Award-nominated artist Ariana Grande has revealed details behind her biggest tour yet - THE DANGEROUS WOMAN TOUR.

2016 sees Ariana release her mega-anticipated third full-length album, "Dangerous Woman," driven by the title track, which captured No. 1 on both iTunes Overall Top Songs Chart and Top Pop Songs Chart minutes after release. "Dangerous Woman" also debuted in the Top 10 of the Billboard Hot 100, earning her the distinction of becoming the first artist to debut on the chart with the lead single from her first three albums.

Ticket Reminder: If you choose the PDF delivery for tickets to our events, you MUST print the tickets. They will not scan from your phone. Click here for more information.