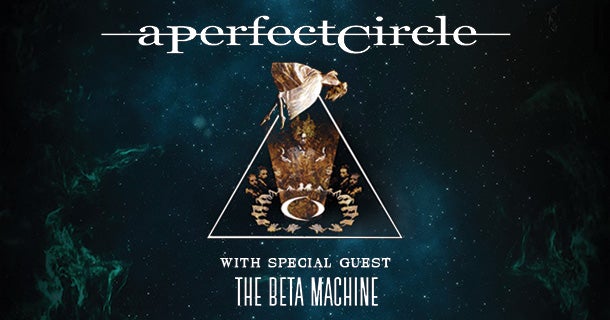 November

25

, 2017

8:00 PM

Starting at $40

7:00 PM

The Beta Machine
A Perfect Circle
A Perfect Circle return to the road this fall and have a Twin Cities concert scheduled for Saturday, Nov. 25 at 8 p.m. at Xcel Energy Center. Special guest will be The Beta Machine.

The band's spring outing, their first U.S. tour in six years, began with a three-night stand at The Pearl in Las Vegas. "It was as if they never left, both in terms of the sharpness of their performance and the contemporary relevancy...of their catalog," said the Las Vegas Review Journal in their review of the opening evening. As the band worked their way through the month of U.S. dates, Keenan dubbed the outing the "get to know ya/re-get to know ya" tour, a nod to the band's hiatus and news of their forthcoming album.

The band's current line-up is Maynard James Keenan (Tool, Puscifer), Billy Howerdel (Ashes Divide), James Iha (Tinted Windows, ex-Smashing Pumpkins), Jeff Friedl (Puscifer, The Beta Machine) and Matt McJunkins (Eagles of Death Metal, The Beta Machine).

Mobile Entry: Mobile tickets are like an airline boarding pass which can be accessed with a smartphone via the Ticketmaster app or mobile site in a QR code format and scanned at the gate for entry. Click here for more information.