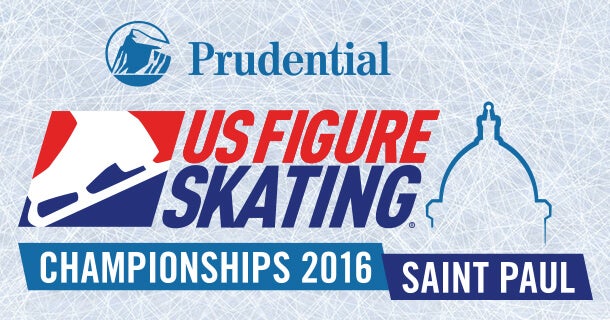 January

15 - 24

, 2016

Packages start at $179 (Groups 12+ call 651-312-3486)
2016 Prudential U.S. Figure Skating Championships
U.S. Figure Skating has selected Saint Paul as the host city for the 2016 Prudential U.S. Figure Skating Championships on January 15-24, 2016 at Xcel Energy Center.

The annual event, held since 1914, is the nation's most prestigious figure skating event, with past winners including Michelle Kwan, Kristi Yamaguchi and Scott Hamilton. The city of Saint Paul also hosted the 2008 U.S. Championships. Champions included 2010 Olympians Mirai Nagasu, Evan Lysacek, and Tanith Belbin and Ben Agosto.

Sign up to receive the latest news and information.
Join us Sunday, August 30 at Rosedale Center's East Court for a figure skating celebration and back to school pep fest. To celebrate Rosedale Center being an official partner of the 2016 Prudential U.S. Figure Skating Championships, Kristi Yamaguchi will greet fans, sign autographs and go on a $1000 shopping spree with one lucky winner! Click here for more information.

Celebrate Figure Skating Day at the Minnesota State Fair on Monday, August 31 with Olympic Gold Medalist and World Figure Skating Champion Kristi Yamaguchi and National Figure Skater, Choreographer and Minnesota Native Rohene Ward. Click here for more information.

Visit 2016uschampionships.com for details on ticket packages, event partners, volunteering, accommodations and more.

Groups 12+ call 651-312-3486 or email [email protected]. Click here for more information.

All-Event Ticket Packages include a reserved seat to all senior, junior and novice level competitions at Xcel Energy Center plus general admission to specified practice sessions at Xcel Energy Center and intermediate and juvenile competitions at Bloomington Ice Garden.* Packages are $395, $595, $895 and $995.

Championship Weekend Packages include one ticket to the final free skate competitions in ladies, men's, pairs and dance to be held on Saturday, January 23 and Sunday, January 24.* Packages are $179, $229 and $349.

The Smucker's Skating Spectacular offers fans the opportunity to see all the champions and medalists for the week's competition let loose in a fun, theatrical ice show. The Smucker's Skating Spectacular is on Sunday, January 24 at 7 p.m. Tickets are $35, $45, $60 and $75.

*Subject to change. The official Schedule of Events will be posted as soon as it is made available from U.S. Figure Skating.

Seating Chart

Frequently Asked Questions
Add to Calendar
Friday, January 15, 2016

TBA

Saturday, January 16, 2016

TBA

Sunday, January 17, 2016

TBA

Monday, January 18, 2016

TBA

Tuesday, January 19, 2016

TBA

Wednesday, January 20, 2016

TBA

Thursday, January 21, 2016

TBA

Friday, January 22, 2016

TBA

Saturday, January 23, 2016

TBA

Sunday, January 24, 2016

TBA